If you're in a hurry and you'd rather be jumping around with joy that you've found the best overall jumper around for your toddler, I'd recommend Fisher-Price Rainforest Jumperoo. 
Baby jumper topic is kind of a controversial one. Should I get one as I heard it might not be safe for my baby? What are some of its benefits? What types exist? Are doorway jumpers safe to use? There are tons of questions to ask and you're absolutely right to do that as you want simply the best activity or entertainment for your little one, things to do that are both safe and healthy for their development stages.
In this article I've reviewed my favorite ones considering many criteria and arrived at the best baby jumpers in many different categories. In evaluating these I considered my own experience, my family's experience (sister) and researched this topic for hours so you can just sit back and enjoy reading through tons of infos I could dig up. You'll hopefully get answers to many of your burning questions that might stop you from buying the perfect product.
A little teaser now: not all types of baby jumpers are bad. This is why we have already a recommendation at the beginning and well, this is why in the end we have many other recommendations in some interesting categories.
My Top Picks:
What is a baby jumper and why do I need it?
I think there's no better way to look up the meaning and description of words other than visiting Wikipedia. So here you go, the word we're interested in by Wikipedia, "A baby jumper is a device that can be used by infants to exercise and play in."
Baby jumpers are not to be confused with mobile play centers, or also called baby walkers which have wheels so the child can move around without having to actually walk on its own.
Benefits
How many times have you wanted to take a shower but as soon as you wanted to jump under the shower, your baby started crying? This situation is especially present when you're at home alone with your child. There's nobody else around who could help to entertain your little one while you have your peaceful time in the bathroom. This is a typical problem I have every Saturday when I stay with our daughter, while my financee goes to work the whole day. Baby jumpers are great for such moments. There are also some other similar situations, like in the kitchen. You might just want to cook something without having anyone around attached to your legs.
Since many times these baby jumpers have toys included, they could be a great source of entertainment. These devices however even on their own without the toys can provide benefits as you can read below.
Enhancing gross motor skills – kids can bounce gently when they put down their feet, balancing on their toes
Providing sensory experiences – because of the included toys, your child can touch, talk to them, or listen to the sound they might make. When they push a button some light might come up. All these can offer an excellent audio visual experience.
Aiding in curiosity and discover – toys and buttons to push not only provide sensory experiences but also allows them to learn about cause and effect, to discover new colours of light, typical sounds animals might make
Types
There are two commonly found types on the market today.
Doorway jumpers
They're also called simply door jumpers.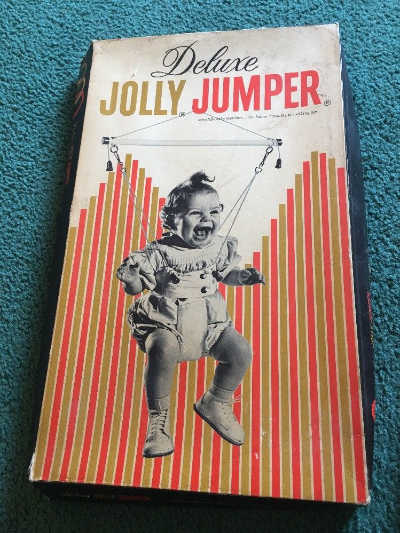 Historically baby jumpers were the door jumper types and this version has been around already since the 19th century. A hoop or harness was hanging in the air, attached to an elastic strap. When the baby needed smoothing, the mum would pull on the limbs so a bouncing motion would start.
Today's version is not that different from the old one, as you can see it in this video. But our understanding on whether we should use it or not has progressed tremendously. Are doorway jumpers safe to use? Its use is definitely NOT recommended and I don't endorse it either. You can read about why later in this article.
Stationary (activity) jumpers
This the other type that is around. This one can be stable without relying on an external element to support or hold it. It is typically made up of a seat with a tray, and this rigid construction is suspended via cords to a stand.
The stationary jumper doesn't come with any additional sources of entertainment other than the actual bouncing, whereas the stationary activity jumper or also called simply activity center or exercauser does come with them. This means the child can push buttons, grab and push some dangling toys.
Importantly, its use is recommended. Just make sure you pay attention to some guidelines as to how long you should let you child sit in it each day and starting with which age. I describe it more in detail in the health and safety considerations section in this article.
Health and safety considerations
Baby jumpers are not without danger.
Some points to consider regarding the health and safety aspects are as follows.
Duration of use and age of a child – even though using baby jumpers do have benefits, if one starts to use it at the wrong age of a child and for some longer durations than the recommended interval each day, it can have some detrimental effects, too. A child normally goes through a natural development process, when muscles and coordination get better and better. This is happening when your little baby starts sitting up, crawling, then standing. A premature placement into a jumper can hinder such natural processes, putting unnecessary stress on the spine and hip, as well as causing muscle imbalance. This is explained very well in this video by a chiropractic professional. Basically you should use a baby jumper only for roughly max 10 mins a day and only when the child can already sit on its own. Therefore it's safer to buy one when your kid hold its head firmly and begins to sit up which happens at the age of around 6 months. Always check the exact age recommendation by the manufacturer as they indicate this in their product descriptions. Besides these improper development effects, another effect that can happen is that it can set back the child in its progress towards being able to walk.
Vertical position of the seating – pay attention to placing the child at a height that allows them to touch the ground slightly, without hanging in the air as the latter would place too much pressure on their hips
Avoid doorway jumpers – why would anyone use a doorway jumper when other types are available, too? Let's look at how the door jumper works. By letting a rigid hoop without a tray hang in the air, attached to elastic bands, the child can sit calmly or most of the time not so calmly since suddenly the infant is free to move. Free to move even wildly, by bouncing off the floor with its legs, enjoying the jump into the air, but and here's the but, also sideways. And there lies one of the sources of danger: the child might hit the frame of the door, pinch its fingers between the frame and the jumper's rigid part. If that's not enough, movements vertically can become so extreme that sooner or later the strap might snap, the child landing on the floor potentially in a pretty dangerous position of its body. Another very dangerous situation can occur if the child gets entangled in the strings. You can imagine the end result. If this is not enough considerations, you might want to take into account the recommendation by Choice, an Australian non-profit consumer organisation which warns against the use of doorway jumpers.
How to choose the right baby jumper
Choosing the right one is not an easy task. There is a huge amount of variety out there to choose from. How do you wade through the selection if you don't have criteria for evaluating these options? This is why I've put together some points to consider so you minimise your confusion.
Safety
I consider this as one of the most important points as we all want to avoid turning the supposedly pleasant experience into a horror scene. Make sure you check out the health and safety considerations earlier in this article.
Age and size
What age can a baby use a jumper? What are some of the size requirements? Some baby jumpers will be small in size, others will be big. Consider the space you have at home and of course your child's size, too when you read these reviews in this article. Always double check the size and age recommendations from the manufacturer. Typically they are suitable for infants of 4 months and older when their neck muscles are already very well developed. Some are appropriate for up to 12 months of age. Others are good even for older children when they're already toddlers as they might be convertible to become tables for coloring or other plays.
Comfort
Closely related to age and size, comfort means how comfortable it is for your child to sit in the baby jumper. The material that holds her should feel to your hand appropriate, smooth. Imagine the smooth skin of your child rubbing against any material. The size of the harness that holds her in place matters too, especially in comparison with the legs since your little one's legs should not be squeezed.
Versatility
Is it just a simple baby jumper you want to have or ones with toys, too? Can toys be detached and used separately? All these would greatly increase the versatility of your purchase. Pay attention to the fact that too many toys can be overwhelming for your baby which applies not only soft toys, like animals but also buttons to push or light sources to trigger.
Price
Choose a jumper that suits your wallet size. There are expensive or cheaper ones. In any case keep in mind that you won't be using it for a long time, roughly for 6 months since as soon as your infant becomes a toddler who starts to walk, it'll be hard to keep your child into a baby jumper.
Best Overall – Fisher-Price Rainforest Jumperoo
It's a stationary activity jumper so by definition belongs to the safe type I recommend in this article. It has a well-built construction. And it comes with a lot of fun features that babies just simply love: colorful dangling toys, ability to activate sounds and light when babies jumping around.

Who it's for: parents with babies who want to activate light and sounds when they jump around in the baby jumper
Why you should buy this: even though it's a bit expensive, it has a very high rating on Amazon with literally thousands of five star reviews; it's also the safest one around and we value safety very high as you can see in this review; unique activation of sounds and lights using motion sensors
Features:
Weight: 18 pounds
Size: 32 x 43.125 x 37 inches (W x H x D)
Batteries: 3 AA
Maximum height of child: 32 inches
Maximum weight of child: 26.5 pounds
Height adjustment: yes (3 height positions)
Pros:
Brightly coloured soft toys: elephant, monkey, parrot, tiger, lizard
Overhead canopy with green leaves
Rotating seat (360 degrees)
Frame can be collapsed into a small size so it becomes portable, lends itself to kind of easy storage
Cons:
Doesn't collapse to a small size so a very compact storage is not really possible
Might be too small for some larger than average babies
Best Ocean-Themed –

Baby Einstein Neptune's Ocean Discover Jumper

This is a great baby jumper if you want to educate your child about the ocean and its animals, sounds. It has a wide variety of colours and the activities it offers all mean that your little one will hardly ever get bored – perhaps just overwhelmed from time to time. Well, anyway you shouldn't use a jumper for a long time at a time as I've described it in this post, so overwhelmed feelings might not even come up. A very cool feature that I like is that it has a removable sea turtle, which is actually an activity center. You can just push some buttons, and it'll tell you numbers and colors in 3 different languages. Since I want my child to become multilingual, this is a great addition.


Who it's for:

babies with parents who want to have a deep dive in sea exploration and who want to teach them numbers, colors in 3 different languages

Why you should buy this: ocean-themed activities, toys and the ability to learn words in 3 languages

Features:
Weight: 14.88 pounds
Size: 32 x 32 x 33.1 inches
Batteries: 3 AA
Maximum height of child: 30 inches
Maximum weight of child: 25 pounds
Height adjustment: yes (4 height positions)
Pros:
Ocean-themed discovery activities and toys in all directions
Toys: detachable; you can even add your own ones using some link loops
Rotating seat (360 degrees)
Possible to make sounds with the activities for more fun
3 different languages (English, Spanish, French) for teaching kids about numbers, colours
Cons:
The many activities it provides can also be a drawback as the child might get overwhelmed
Best for Summer and for Travel – Summer Pop N' Jump Portable Activity Center
If you're on the go and you need some moments of peace without your baby crawling around picking up dirt this product might be the right one for you. I love traveling, especially in sunny places and therefore this baby jumper is indispensable for me. It is lightweight, easily foldable for a comfy travel so you don't have to sweat extra because of the massive weight and volume you'd need to carry in case of other similar products. It comes with a travel bag with a shoulder strap so you can just chuck the folded jumper into the bag and just go for your big or small trip. Even though it's a very simple construction, it comes with some very interesting toys: a spinner ball, rattle, teether and mirror book. This way your baby will be entertained with very high probability since not only soaking up the sights of the new environment will keep your little one busy but also this jumper's toys.

Who it's for:
traveller parents or just simply ones who need peace of mind when on the go so one knows the baby stays at one place
Why you should buy this: super easy to carry and it has everything you need at a sunny place with its integrated sunshade
Features:
Weight: 10 pounds
Size: 9.4 x 9.7 x 31.3 inches
Batteries: Not required
Maximum height of child: not available
Maximum weight of child: not available
Height adjustment: yes (3 different heights)
Pros:
Light-weight
Can be fully folded and carried easily anywhere you go
Unfolds in seconds as it comes fully assembled
Comes with a sunshade that gives protection from UV radiation
Jumping support seat removable and washable
Toys included: spinner ball, rattle, teether and mirror book
Cheap price
Cons:
Since it's a simple, lightweight construction, it might not be so durable as more sturdy ones
It doesn't give the level of entertainment as other baby jumpers that provide even sounds and light show
Most Versatile – Skip Hop Explore and More Baby's Activity Center
I selected this activity center as the most versatile product since it provides a so-called "whole body" approach to entertaining babies so it keeps them busy from head to toes. Another aspect of versatility that I really appreciate is that it can follow a child in different development stages, starting from the age of 4 months to the toddler stage. I see this happening nearly every week as my sister has this baby jumper for her daughter and it's been standing around in their living room for ages. As the baby grows, its use goes from an activity center to a table for coloring and for other activities while your child stands next to it instead of inside when he or she was still younger. That's really awesome! You get simply more bang for your bucks. Do you see the little window on the activity center? Well, that's another unique design element as kids can peek through it to see their toes as they might touch the colorful piano buttons. Crazy design, but apparently it works as I see my niece enjoying watching her toes wiggle.

Who it's for: parents who want an activity center but also a table for playing when the child grows up
Why you should buy this: you get a lot out of this investment as it's suitable for an infant and also for toddlers
Features:
Weight: 15 pounds
Size: 31 x 31 x 18.5 inches
Batteries: AAA
Maximum height of child: not available
Maximum weight of child: 28 pounds
Height adjustment: not available
Pros:
Suitable for babies of 4 months to toddlers
Designed in collaboration with a paediatrician which provides more trust towards this product in terms of health and safety
In total 25 developmental activities can be exercises
Comes with 4 toys: peekaboo clouds, wobble lamb with rattle beads, swaying stars, sun bead mover with spinner
Rotating seat (360 degrees)
Cons:
Relatively short battery life of 2 hours
Not cheap – but hey, you get a lot out of it for years to come due to its versatility
Most Fun – Evenflo ExerSaucerJump and Learn Stationary Jumper
This activity center gives truly unlimited entertainment opportunities for your kid. Three different song themes can be selected and together with the toys there are a whopping 67 fun activities to choose from. This way you'll never run out of play options. What I like about is that it was developed by experts in the field, the Child Development Institute and therefore it's both safe and healthy to use, of course with always moderation as I described it in this article in Health and safety considerations section.

Who it's for: parents with enough space in their home who want to have unlimited fun activities for their babies
Why you should buy this: high number of activities our little ones can engage with in a safe environment, also taking into account that the child's healthy development has been greatly considered in this design
Features:
Weight: 16 pounds
Size: 35 x 35 x 39 inches
Batteries: 12 AAA
Maximum height of child: 30 inches
Maximum weight of child: 25 pounds
Height adjustment: yes (3 different heights)
Pros:
Provides 67 fun activities which is the highest number I've seen
Developed in collaboration with the Child Development Institute which means its design has been codeveloped by child experts
Bounce base helps children in their early age to stand in a stable way
Comes with machine-washable seat
Cons:
Requires a large amount of batteries to operate it
Needs a lot of space and it cannot be disassembled; not portable
Conclusions
I've reviewed many different types of baby jumpers in this post. Hopefully it won't lead you to more confusion before you set out to find your perfect version. On the contrary, I do believe that by providing you with all the necessary information, there's a chance that you can decide today to get one for your baby. 
Overall, I'd recommend Fisher-Price Rainforest Jumperoo as it has the most number of reviews, the highest rating, it's safe to use and give babies all kinds of entertainment, both visual and auditory to maximise their engagement. It's a bit expensive but its quality has been verified by thousands of customers, so you can be more sure that you won't have to end up returning your purchase for something of a higher quality.
Last update on 2022-05-02 / Affiliate links / Images from Amazon Product Advertising API