Each family has its unique needs when it comes to arranging a comfortable and safe place for a baby to sleep. You've certainly come across the topic of doing the comparison bassinet vs pack 'N play when looking for a safe place for your baby to sleep during the day and during the night.
But how do these two choices differ from each other? Let's find out, shall we?
What is a bassinet and why you need it
A bassinet is a very small crib for a newborn. It is usually equipped with a hood, handle and wheels. Some models can be placed on the floor, others have structures that they sit on top of. A bassinet is tiny and easily portable. You can put it anywhere in the house so that you can keep an eye on your baby as you are busy with your daily tasks.
Pros and Cons of a bassinet
Pros:
Portable – they are light and can be easily moved from room to room
Takes little space – a bassinet is slightly bigger than a newborn; some models can even be folded for easy storage
Nice for travel – if you move a lot, you can easily take a small and light bassinet with you so that your baby can take a good nap no matter where you go.
Cons:
Babies quickly outgrow them –

their small size may be a great advantage when it comes to portability, but since it is so small you can only use it until your baby is about

3 months old.
Only good for naps – it is perfect for a quick nap. But if your child is fully awake, they would probably want to get out of the bassinet and play. You would have to buy an additional piece of furniture, like a playard, so that your baby can play safely while you keep an eye on them.
What is a pack 'n play and when to buy it
Pack 'n play is a multifunctional piece of furniture where your baby can sleep and play. It can act as a crib, a napper or a play yard for your child. The beauty of pack 'n play is in its multi-functionality. It grows with a baby. You can basically use it from birth through the toddler years. It is portable and cheap.
Pros and Cons of a pack 'n play
Pros:
Multifunctional – they are versatile. They can act as a crib or a playpen; some models even have a changing table and a portable napper.
Affordable – they come with an attractive price making it a cost-effective investment
Portable – they usually have wheels for portability. They can also be folded for easy storage and travel.
Cons:
Heavy – they are usually bulky and heavy
Hard to use – folding and unfolding takes effort
Portability – while pack 'n plays are made portable, because of their size and weight, it is unlikely that you will often move it around the house
Bassinet and Pack 'n Play comparison
Size and weight
A bassinet is much smaller in comparison to a pack 'n play, and obviously much lighter.
Portability
Both are made to be portable. However, because of their size and weight, pack 'n plays are not as easily portable as bassinets.
Price
Pack 'n plays are more expensive than bassinets, but they are multifunctional and will serve you much longer.
Bassinets vs Pack 'n Plays OR cribs vs mini cribs
Bassinets are usually designed to be small and portable so that you can carry your resting baby from place to place. Bassinets are used for babies from birth to about four months.
Both full-size and mini cribs are bigger than bassinets and will serve you for years as your baby grows. In terms of portability, full-size cribs are permanent structures. They take quite a lot of space, and will probably stay in the room where you built them as long as you use them. In contrast, mini cribs are usually lighter, smaller, and equipped with wheels, which allows you to move them from room to room. Still, they are not as easily portable as bassinets are.
Pack 'n Plays are similar in size to mini cribs, but they are not designed for night sleep. The mattress that they come with is usually quite thin, which is acceptable for short naps, but not that comfortable for night sleep. Also, unlike (mini) cribs pack 'n plays fold and can fit in a compact bag. They are lighter and portable, which makes them great for travel.
My Top Picks
Graco Pack 'n Play On the Go Playard allows your baby to catch a great nap wherever you go. It takes little space when folded thanks to the automatic folding feet and wheels, which  makes it great for storage and travel. So, if you are moving a lot, this pack 'n play model might be for you. It comes with the bassinet attachment where your baby can take a nap. Washable and easily folded, Graco Pack 'n Play On the Go Playard is easy to maintain and use.

Product Info:
Size: 40 x 28.5 x 29 inches
Weight: 23 pounds
Height recommendation: min 35 inches
Colors: azalea, pasadena, stratus, zuba
Pros:
Takes little space when folded
Perfect for travel
Durable frame
Easy to set up and fold
Easy to clean
Has a toy bar with soft toys
Cons:
Comes with a firm little pad that may not be very comfortable to sleep on. You might consider buying a mattress for extra comfort, but note that the

instructions 

warn you against inserting your own mattress. If the mattress is too thick, the distance between the mattress and the top of the walls will be reduced, making it potentially unsafe for your child.
View on Amazon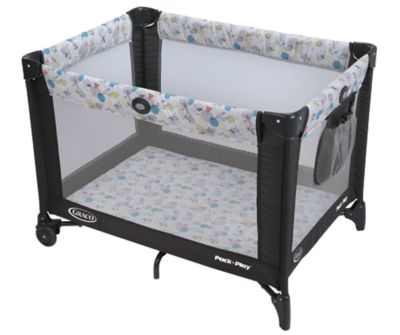 Portable and stylish,  it allows your baby to take a great nap or play safely wherever you are. Thanks to its strong frame, this pack 'n play easily withstands the wear from the frequent on-the-go use. With Graco's push-button fold, you can quickly close your playard and put it into a compact carrying bag.

Product Info:
Size: 40 x 28.5 x 29 inches
Weight: 20.1 pounds
Colors: aspery, carnival
Pros:
Portable
Easy to set up and fold
Durable frame
Airy mesh for extra ventilation
Cons:
This model has certain safety restrictions on the baby's weight and height. The baby should be under 15 lbs. and less than 35" tall.  Stop using this model the moment your child exceeds weight/height limits or starts to push herself up on hands and knees.
Adding any additional mattresses to this product is not recommended for safety reasons
View on Amazon
This bassinet is an affordable, good quality product that acts as a mini crib for your baby. It is light and is equipped with wheels for easy room to room mobility. The bassinet also includes an adjustable canopy and a large storage basket underneath for all the little things you might want to keep at hand. Delta Children Sweet Beginnings Bassinet meets the latest safety standards. It also features a calming nightlight and soothing music to help your baby to quickly fall asleep.
Product Info:
Size: 21 x 35.5 x 45.5 inches
Weight: 10.6 pounds
Weight recommendation: max 15 pounds
Colors: Falling Leaves, Playtime Jungle
Pros:
Affordable
Features a calming nightlight and soothing music
Includes mattress pad and fitted sheet
JPMA certified to meet the CPSC and ASTM safety standards
Locking wheels for easy mobility
Large storage basket
Adjustable, rem0vable canopy
Cons:
Can be a little wobbly
The fabric of the sheet that comes with the product is not of good quality
View on Amazon
This crib is designed to be a comfortable bedside sleeper with 7 height positions to accommodate your bed. It is great for breastfeeding moms as it makes feeding and comforting easier. Mika Micky Bedside Sleeper can also act as a standalone portable bassinet. Thanks to built-in wheels, the crib can be easily moved around the house. The two-side mesh makes the crib more breathable and allows you to check on your baby at any time.
Product Info:
Size: 38.2 x 24.8 x 5.5 inches
Weight: 25.2 pounds
Colors: grey
Pros:
7 height positions to suit parents' bed
Easy-open side panel
Two-side mesh for more breathable room
Built-in wheels with brakes
Two side pockets for baby essentials
Cons:
Only suitable from birth to 5 months
Weight limitation up to 33 lbs
Can't be used after a baby learned how to pull themselves into an upright position
View on Amazon
Conclusion
Both bassinets and pack 'n plays can be a great addition to your house. Whichever product you choose depends on your particular situation.
Multifunctional pack 'n plays offer your baby both a comfortable place to nap and a safe space to play. Compact when folded, pack 'n plays are great for travel. Bassinets serve a slightly different purpose. If you don't want to leave your child sleeping alone in the room while you are busy around the house, the light compact bassinet is for you. There is a lot to consider when deciding where your baby is going to sleep, as you want them to be both comfortable and safe. Hope this article helps you pick the right product and make parenting a little bit easier.
In another article, I've compared the pros and cons of mini and full-size cribs which you might also want to read.
Last update on 2023-08-31 / Affiliate links / Images from Amazon Product Advertising API