Are you in the market for a surfboard for your kid's first ride on the wave? You may have discovered by now that you can choose between a hard or foam surfboard. When it comes to the best foam surfboard for kids I dub the Beginner Surfboard by South Bay Board Co. Store as the best board on the block.
Your kid has been nagging you to go surfing. They love the sea and are fascinated by watching the cool surfers riding the waves. They're even telling you they want to be a surfer when they grow up! As a parent, you may love the sea just as much. Maybe you're a surfer yourself. But even if you aren't you know the importance of surfing safety and the right gear for a sport such as surfing.
My Top Picks
Thinking About a Foam Board for Your Kid? Here's my Buying Guide for Kids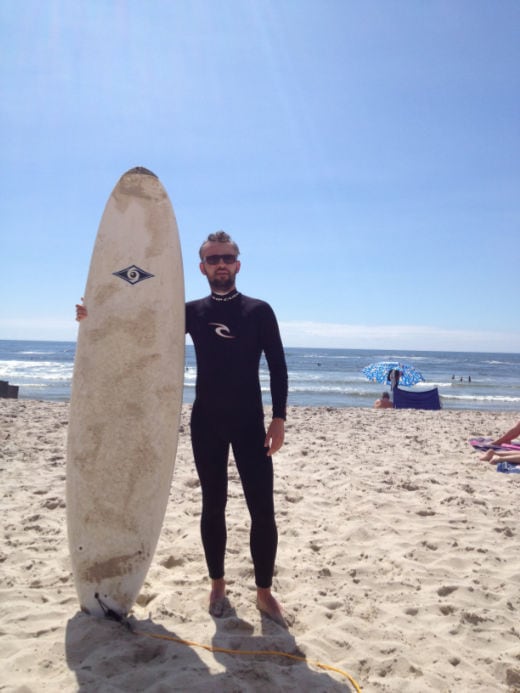 For first-time surfers learning to ride the wave, the right surfboard is key for a successful surf. As an adult I started surfing using a softboard, then shortly after that with a longboard as you can see a picture of me here. While I was reviewing the different surfboards for kids, I came across some cool foam surfboard products. But with so many available on the market, it was difficult choosing the best one which is not only cool but also reliable. Are you a parent wondering which surfboard to go with for your kid's first time out on the sea? Let me help you. My buyer's guide includes five different products to choose from. I've discussed the features you should look out for when making your best pick. I've also included what you should know about foam surfboards and why they're your best bet for beginners on the wave.
What is a Foam Surfboard and What are its Benefits?
Most of us are familiar with the conventional hard surfboard. But did you know foam surfboards are the best ones to use for beginners, both adults and children? They're easy to use, light to carry and make learning to surf fun. The board's top deck is made from foam while the conventional surfboard is made from fiberglass. Nowadays, with surfboard technology advancing, foam surfboards are even being used by intermediate surfers. If you're wondering whether you'll need to replace your foam surfboard with a hard surfboard sooner than later, think again. An upgrade won't be necessary immediately as long as your kid is still having fun. And here's a benefit which will appeal to you if you're on a strict budget. Foam surfboards are cheaper than your hard surfboard. By a LOT! This means you won't be outlaying a load of money only to find your kid hates surfing or loses interest after a short while.
The Benefits of Surfing for Kids
As with any active outdoor activity, the benefits of surfing for kids are numerous.
Surfing keeps your kid fit and healthy (the same applies to the parents accompanying them!)
Sunshine is a great source of Vitamin D. Surfing encourages children to be outdoors while doing something they love doing.
Surfing is an excellent activity for teaching your kid balance and coordination. As parents we know how important this is for their healthy development.
You can't outgrow surfing. This is a sport your children can grow into and continue to do as adults.
Your child will develop self-esteem and confidence. Surfing is an independent sport and learning to be independent gives your child a head start in life.
Surfing is a great stress and anxiety reliever. We all know the benefits of activity releasing that feel-good serotonin. Well, imagine your kid getting a good dose of this every time they're out on their surfboard?
What to Look for in a Foam Board for Kids
While I was reviewing the different foam boards, I noted features that could add to the experience of learning to surf. In my opinion, here are some of the most important features to keep your eyes peeled for.
The thickness of this board makes it easy for kids to paddle and catch the wave. The 3" round rails keeps it buoyant and stable. The wide chest area makes pop ups easier. Its high-quality construction was noted in many of the customer reviews. It's lightweight with an easy carry handle and an 8-foot leash.
Who It's For
This is perfect for the younger kid as well as teenagers learning to surf for the first time.
Why You Should Consider It
This product has two full-length light weight stringers which keep the board strong. The closed-cell EPS foam core prevents water absorption which adds to stability and durability. It includes 3 safe, rounded-edge soft-top fins and fin screws.
Product Information
Dimensions: 96 x 22 x 3″
Weight: Not specified
Volume: 60 Liter
Color: Available in different colors
Ages: Kids, teenagers, and lightweight adults
Weight range: Up to 180 lbs
Type: Longboard
Pros
Comes in a range of colors
Safe to use
Premium quality
Cons
Not for heavier surfers
Expensive
Sinks easily
View on Amazon
This product is made with strong, recycled plastic. The board volume of 33.6L and board weight of 6 lbs means you're in for a light use and ride! An adjustable fin box allows for changing performance. The fish tail gives more traction and hold while allowing for speed planning and lift. The rubbery fins prevent your kid from getting hurt if the board hits them.
Who It's For
This is perfect for the kid wanting to carry and use their board easily without the weight.
Why You Should Consider It
This is an excellent board for stability and easy gliding through the waves. Its extra lightness gives buoyancy in the water. The strong bottom board maximizes board speed. The high density durable IXPE deck gives a well-cushioned feeling while limiting the risk of delamination.
Product Information
Dimensions: 5'10 x 20 x 2.75"
Weight: 6 lbs
Volume: 33.6 Liter
Color: Blue
Ages: Kids and adults
Weight range: Maximum 200 lbs

 

Type: Shortboard
Pros
Value for money
Easy to transport
Perfect for kids with athletic ability
Cons
Fin screws fall out easily
Not for high performance surfing
Delaminates easily
View on Amazon
If you're looking for a board that will last you forever then this is your best pick! Its solid one design makes it almost impossible to destroy. They guarantee it will not delaminate, bubble or get water-logged. The removable fins let you choose your kind of ride. The strong foam gives long-lasting durability. And if your kid is into originality, they'll love the uniqueness of their board owing to the product's 18-step PE foam recipe. Each one comes out slightly differently without quality compromise.
Who It's For
This is perfect for parents wanting a long-lasting board that kids can grow into.
Why You Should Consider It
Besides its indestructible features, this board has dual purposes. Not only can it be used for surfing but it can cross over as a bodyboard. The wide deck gives a stable ride, great for beginners. The Tentacle Grip Traction pad molded onto the board means you don't have to purchase trac-pads or wax.
Product Information
Dimensions: 48 x 22 x 2"
Weight: 4 lbs
Volume: Not specified
Color: Varies with construction/fusion
Ages: Kids and adults
Weight range: Maximum 200 lbs
Type: Shortboard
Pros
Environmentally-friendly
Lightweight
Solid
Cons
Not as "foamy" as other products reviewed
Scratches easily
Narrow for larger surfers
View on Amazon
This product is a well-known surfboard in the surfing community. It's popular for its high performance and easy to use features. If you're looking for a board that will help your child with balancing, this could be your best pick. It includes a removable ankle leash. The top deck is soft foam, adding comfort while using the product. It has strong bolt-through components.
Who It's For
This is perfect for beginners who are still mastering the art of balance and coordination.
Why You Should Consider It
This high-quality surfboard comes in a classic design. It has a strong EPS core with 3 marine-ply stringers adding to the durability of this board. The water barrier skin is resilient with the top graphic deck skin being textured for grip. The bottom slick ensures the board maintains its shape.
Product Information
Dimensions: 8' x 22.5 x 3.25″
Weight: 11 lbs
Volume: 86 lbs
Color: Bright graphic colors
Ages: All ages
Weight range: Maximum 200 lbs
Type: Longboard
Pros
Well-priced
Stable and buoyant
Funky colors
Cons
Damaged on arrival (Amazon reviews)
Flexibility could decrease durability
Smaller kids may battle with length
View on Amazon
While all the products reviewed can be used by beginner surfers, this product has been specifically designed for entry level surfers. Special attention to features ensures easier surfing for newbies to trying out this sport for the first time. The resin layer both on top and bottom helps prevent impact damage. The triple stringer system makes this product extremely durable. Bubbling is prevented by the heat-release valve and bamboo layers on both the top and bottom.
Who It's For
This is perfect for kids needing an easy introduction to surfing without losing confidence after the first time.
Why You Should Consider It
This product's rounded nose and squash tail shapes gives extra stability making this board an extra-safe board to use. The double concave bottom deck efficiently channels water making for an easy glide. The soft top foam deck adds to comfort while the carry handle and 9' leash makes for easy carrying.
Product Information
Dimensions: 8' x 23" x 3.25"
Weight: 25 lbs
Volume: 86 liters
Color: Wide range of colors
Ages: All ages
Weight range: Maximum 260 lbs
Type: Longboard
Pros
Excellent customer service reviews
Textured top deck for grip
Safe vertical storage
Cons
Expensive
Ankle strap tangles easily
Loose leash plug
View on Amazon
FAQs
How do I take care of my foam surfboard?
Exposure to high temperatures, sunlight and water absorptions are all ways in which your foam surfboard could get damaged beyond repair. Keep it out of direct sunlight when not using it. Or use a silver reflective bag to store your board in. If you crack the board and water gets inside, let it dry out in a warm, dry place. Repair the crack with Epoxy glue.
Do I need to wax my foam surfboard?
This depends on the surfboard you've bought. Some boards have been designed to be wax-free. Check out the texture and materials of your surfboard. It's beneficial to add wax to your board so if you can, go ahead and wax your foam soft board.
Conclusion
Surfing is one way to keep your kids busy and active while enjoying themselves. The best foam surfboard for kids can give them an exciting introduction to this exciting sport. I felt the Beginner Surfboard by South Bay Board would be a great starter for newbies to surfing. Which one will you be picking for your kid's first ride on the wave?
Last update on 2022-11-22 / Affiliate links / Images from Amazon Product Advertising API