Your kid or baby has been asking for a bumper car for their next birthday. Finding a bumper car means taking in all the considerations before buying one. This is why I've put together this Kidzone bumper car review for you. I've also included two alternative brands so you can get a more complete picture of what's on the market.
A bumper car is a great gift and you don't want to disappoint your child on their big day. You also want to make sure you're getting a product that's safe, reliable, and really a lots of fun! But why should you pick one made by Kidzone? What are their pros and cons, their key features that differentiate them?
My daughter is 2.5 years old and she started pointing at these bumper cars whenever she sees that a friend of hers got it. She says, I WANT THAT ONE. So I was curious to find out what's the truth behind these little machines.
What You Need to Know Before Considering a Bumper Car for Babies and Kids
If you're anything like me, I like to make sure anything I buy for my daughter is safe to use. I always check out the features of a product to help me make a decision about whether I'm going to buy it or not. When I first heard about bumper cars, I was apprehensive. I wasn't too sure this was a toy I wanted my child to play on.
But, my research showed the Kidzone bumper car is a popular choice among many parents to get both for kids and babies. This is the case because its recommended age is one and a half to six years old. I looked into it some more and in this article, I even compared it to an alternative, the Radio Flyer Grow With Me Racer. The Kidzone Kid Ride-On Bumper Car is definitely a popular choice with so many reviews by parents.
Read on to find out more about the Kidzone Kid Ride-On Bumper Car and why it's the best one to buy.
Fun with Kidzone and Their Bumper Cars for Kids
Look at any toy store and you'll find a range of the Kidzone Electric Ride-On bumper cars available. They come in a wide variety of colors so if your kid has a favorite color, you shouldn't battle to find it with Kidzone's range of brightly colored bumper cars.
Manufactured by Kidzone, this bumper car will put your mind at ease with the safety features included. When looking to buy a ride-on car for your child you want to make sure it's well-balanced, made with solid build quality and the speed is manageable. Another important feature is the option of a remote control for parents to control the bumper car themselves.
The Kidzone Kid Ride-On Bumper Car has all of these features. The design looks just like the bumper cars so popular at entertainment parks. And, it means you can give your kid the experience of being at a fun-fair without having to leave your home.
Pros and Cons of Buying the Kidzone Kid Ride-On Bumper Car
Let's simplify the decision-making process by talking about the pros and cons of buying the Kidzone bumper car.
Pros:
It builds and improves children's motor skills.
It's a great way for kids to learn how to play in a cooperative way with other kids.
It's a fun party theme if you buy more than one bumper car.
A separate remote control allows the parents to operate the bumper car for the kids if they battle with the controls themselves.
They can be used on carpets and outside.
No assembly is required. Simply connect with the battery wire to charge.
It'll keep your children entertained for hours!
Cons:
The battery needs to be charged often.
The car is quite noisy so if your kid is using it indoors parents may get frustrated with the noise levels.
The car is slow so don't expect high-speed movements with this bumper car.
Can cause damage to some types of flooring especially wooden floors.
The safety belt may be too big for children with smaller body frames.
Key Features
This bumper car is fully rechargeable with its 6V electric power. It reaches a speed of 0.75 mph which is perfect for the kids riding it.
To add to the exhilarating fun of riding this bumper car, kids can control it using a simply designed joystick. Or, if they're not ready to use the joystick, the remote control allows the parents to operate the car for their child.
The bumper car is designed to spin a full 360 degrees, so expect your kid to get dizzy with excitement! But, with its durable, tough plastic shell and a sturdy but soft bumper on the outside, you don't need to worry about the car falling apart on every impact.
A safety belt is included to keep your child safely secured in the car and the car meets high safety standards with its ASTM-certification. And, the anti-flat tires mean you don't need to replace the tires all the time.
One more fun feature of this cool bumper car is the flashing lights. These bright colorful lights will make any child feel they're at the fun fair!
Watch this video to show you how to use the Kidzone bumper car.
Why Should You Consider This Product
The benefits of this bumper car will make any parent want to pick it for their kid.
It's tough and durable which means you don't need to worry about your child causing any damage to the car or to themselves.
It's designed to be operated by both the child and the parent so while your child is still learning to use the joystick, you can get them hooked by getting them moving by using the remote control.
The shape design minimizes any risk of your child turning the bumper car over.
You can choose your own racing number for the car making it unique to your child.
The range of colors means you get to pick your child's favorite color.
The bumper car is well-priced so if you've got more than one toddler in the family buying two bumper cars won't break the bank.
Product Information:
Color: A wide range of colors
Material: Plastic
Motor: 6V/30W
Speed: 0.75mph/1.2km/h
Weight capacity: 66 lbs
Age: 1 ½ to 6 years old
Use time: 1 to 2 hours
Charge hours: 5 hours (18 hours the first time)
Dimension: 28.35 x 28.35 x 16.93 "
Reviews by Other Parents
The Kidzone Kid Ride-On Bumper Car has so many positive reviews on Amazon, it's crazy. Here's the link to the reviews so you can check them out. When other parents like a product so much you know you can consider the product for your own child with peace of mind!
And, it wasn't only on Amazon I found rave reviews about this bumper car. Check out this parent's happy feedback on her purchase for her daughter:
"Got this for my daughters 1st bday and she absolutley loves it. Already comes put together and you can help control with personal temote control if child cant function it theirself. Also can use indoors and inside. Def worth every penny!" by Diamonique on Walmart website
Alternative Products
Key Features
This powered ride-on for kids has been designed to offer three modes of riding – controlled by the parent, controlled by the child, and corrected by the parent. The remote control means the parent can guide their kid using this car until they're fully confident using it on their own.
The push-to-start button on the steering wheel gives the child full control of starting the car and steering themselves when they're ready to be independent. The arrow buttons on the wheel give the child the option to spin in all directions.
Powered by 6V, this car can reach a maximum speed of 2mph so be prepared to watch your kid zoom from one place to another!
The recommended age for this car is eighteen months to four years old with a maximum weight capacity of 43 lbs.
Why Should You Consider This Product
Here's a list of pros and cons for this kid's ride-on car:
Pros:
It's quick response time means better control and steering.
The remote control can be safely stored under the driver's seat.
Updated electronics have improved the quality and performance of this car.
Good battery life.
Good value for money.
Easy to assemble.
Cons:
It can only be used for kids up to four years old (compared to the Kidzone bumper car which can be used for kids up to six years old).
It only comes in one color.
Very noisy when in operation.
Product Information
Color: Red
Material: Not specified
Motor: 6V
Speed: 2mph
Weight capacity: 43 lbs
Age: 1 ½ to 4 years old
Use time: Not specified
Charge hours: Not specified
Dimension: 29.2 x 22.5 x 19.5 "
As an alternative to the Kidzone Kid Ride-On Bumper Car, you can't go wrong with picking this product. If the speed concerns you or the lack of color choices, then the Kidzone bumper car is your best pick. And if your child is slightly younger, that is you have a 1-year-old, you might want to consider some other alternative ride-on-toys, too.
Ride-on Motorcycles by Tobbi
This is another alternative to a bumper car – an option you might have not thought of before!? Take a look at this Tobbi kids motorcycle below. Tobbi is an American brand with an office in California and they're also present in Australia. Here's one of their products so you can see it yourself. Isn't it cool?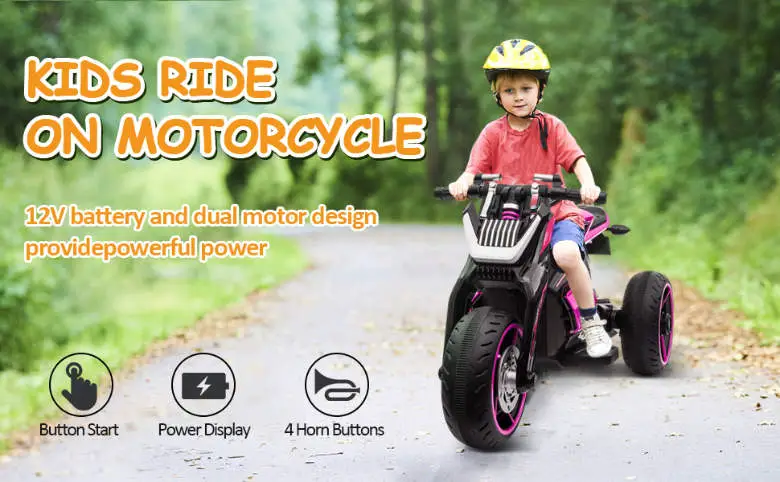 Final Word
As a father to my own daughter, I know any parents will love the idea of a ride-on bumper car for their kids (or babies). These electric cars will guarantee hours of entertainment, keeping your child out of mischief and out of your hair!
Of course, it's always important to check out the safety features of any toy you buy for your child. The Kidzone bumper car is well-designed and meets safety standards that should give you peace of mind when your child rides in it.
My Kidzone bumper car review will hopefully guide you in the right direction when it comes to picking the best bumper car. And, if you prefer the alternative product that's great! After all, every parent knows what's best for their child.
Last update on 2022-11-25 / Affiliate links / Images from Amazon Product Advertising API