Organizing your baby's room is essential if you want to keep parenting simple! Having the right furniture goes a long way to streamlining what happens in the nursery and a baby dresser is useful. But, how many drawers does a baby need? Knowing the answer will help you pick the best dresser for you and your baby's needs.
Three to six drawers work for most parents depending on how many baby items you want to store in the dresser. Other factors to consider include the size of the drawers and dresser, the child's age, other available storage space, and if you want to use the top as a changing table. 
Key takeaways
Three to six drawers give enough storage space depending on a number of factors.
Your child's age and what essentials they need at that stage will determine how many drawers are needed.
Extra storage space in the home means fewer drawers are required in the baby dresser.
The size of the dresser matters if you want to use it as a changing table as well.
Wider and longer drawers will hold more than smaller, shallower ones.
Organization products such as dividers allow you to stash more in a drawer.
Packing only regularly used or seasonal items allow you to optimize drawer space.
How to determine the number of drawers for your baby dresser
Parents opt for three to six drawers in a baby dresser but the number really depends on different factors which I've discussed below. Below you'll see my solution, too, with pictures!
1. Consider the age of your child
Your child's age will determine the number of drawers for your dresser. A smaller baby needs more things such as diapers, receiving blankets, and burp cloths (the list is endless!) Your toddler needs fewer items besides training pants and clothes. 
Clothing must be factored in with baby clothes being smaller and more compact when folded while your two-year-old's garments are larger and bulkier. However, babies often end up with more clothes compared to your older child!
2. Make a list of baby essentials and the amount you'll need from each
Before deciding on a baby dresser and how many drawers, make a list of baby essentials for the first year and how many of each item you'll need to store. This will give you a good indication of how much storage space you need in the nursery dresser. 
Use this table to give you a headstart to making that checklist!
Baby Essentials 
Quantity (estimate)
Disposable diapers (per month)
Newborn – 320
6 months old baby – 2401
2 months old baby – 240
Cloth diapers
• Newborn – 36
• Infants – 24
• Toddlers – 20
Baby wipes (per month)
10 to 15 x 72-piece standard size pack
Diaper creams (per month)
1 to 2 bottles (depending on how often you use diaper cream)
Baby care items (thermometer, nail clippers, brush)
1 baby care kit including all items or 1 of each item
Burp cloths
8 to 14
Socks and tights
5 to 10 pairs
Baby clothes 
• Onesies – 4 to 6 
• Vests – 7 to 10
• Pants – 3 to 5
• Sleepers / pyjamas – 4
• Hats – 2 
Swaddles
4 to 8
Baby blankets
1 to 3
Changing mats
2
Crib sheets and spare mattress protector
• Crib sheets – 2 to 3
• Mattress protector – 2
Other
• Baby sling/wrap – 1
• Receiving blankets – 1 to 2
• Jumper – 2 to 3
3. Consider the available extra storage space you have elsewhere
When looking at the available storage space in the nursery, consider the closet or wardrobe if there's one in the room. This can be used to hang clothes, especially for the older child. If there's a spare linen cupboard in the house, use it for storing your baby's bedding such as crib sheets and mattress protectors. 
Plastic boxes are useful for storing additional baby stuff that you don't need to access in a hurry. These can be stashed in the closet, under the crib, or elsewhere in the house. The baby dresser should only store the essentials you use every day. 
4. Consider how you'd use the dresser: also with a changing table on top?
The nursery dresser can play a dual role in the baby's room by converting it into a changing table as well. Using the top of the dresser, you can place a changing pad for easy diaper changes. However, it's important to secure a changing pad to a dresser the right way so your baby is safe. 
Other important factors to consider when using changing table or changing pad on a dresser include: 
Changing table: These are ergonomically designed to make it comfortable for the parent doing diaper changes. They include side bars to prevent your baby from rolling off them and diapers can be stored under the table or in an organizer on top. Babies outgrow the table once they're out of diapers or get too big to use it safely. 
Changing pad on dresser: Built-in drawers give you storage space and instant access to diapers during changes. However, you must get the right height and width to make diaper changing comfortable and ensure that the dresser is stable enough to hold your baby safely Dressers can be used for many years. 
Baby changing products which include tables and pads are regulated by federal safety standards so make sure the option you pick complies with these regulations. 
5. Consider using a diaper caddy
If your preferred baby dresser has fewer drawers, you can use a diaper caddy to save on storage space. If you're wondering what to insert in a diaper caddy, here are some ideas:
Diapers
Diaper rash creams
Baby wipes
This wonderful holder is an excellent way of keeping your diaper essentials stored in a methodical fashion while leaving space in the dresser for other items. It can be hung above the dresser, in the wardrobe, or on a hook on the back of the nursery door.  
6. Size of drawers and dresser matter
If the baby dresser comes with smaller drawers, you'll need more than less! Dressers with wider, longer, and deeper drawers can hold more items. A quick tip! Dividers come in handy here to keep the baby items neatly organized. 
Some baby dressers are designed with deep drawers while others are shallow. This allows you to store bulky items such as blankets in the deeper storage space while clothing, diapers, and changing products can be kept in the shallower drawers. A nurturing environment in the nursery means getting the right size dresser leaving space for parent and child engagement. 
7. Using organizational systems
Being organized really matters, even more so when you're a parent! Drawers in themselves make it easier to stay organized when keeping all your baby essentials and other items in one place. However, keeping the drawers tidy isn't always easy unless you take advantage of dividers, baskets, or boxes that fit into the drawer. 
Using these products actually allows you to stash more things into the drawers while keeping everything in its rightful place. Whenever you open a drawer, you can find whatever item you need immediately without scrabbling under layers of jumbled garments! 
Watch this video demonstrating how to organize your changing table and dresser. These tips will make it easier for you to access the items you need easily. 
Extra tips – what worked for me
Bought an IKEA Hemnes with 3 drawers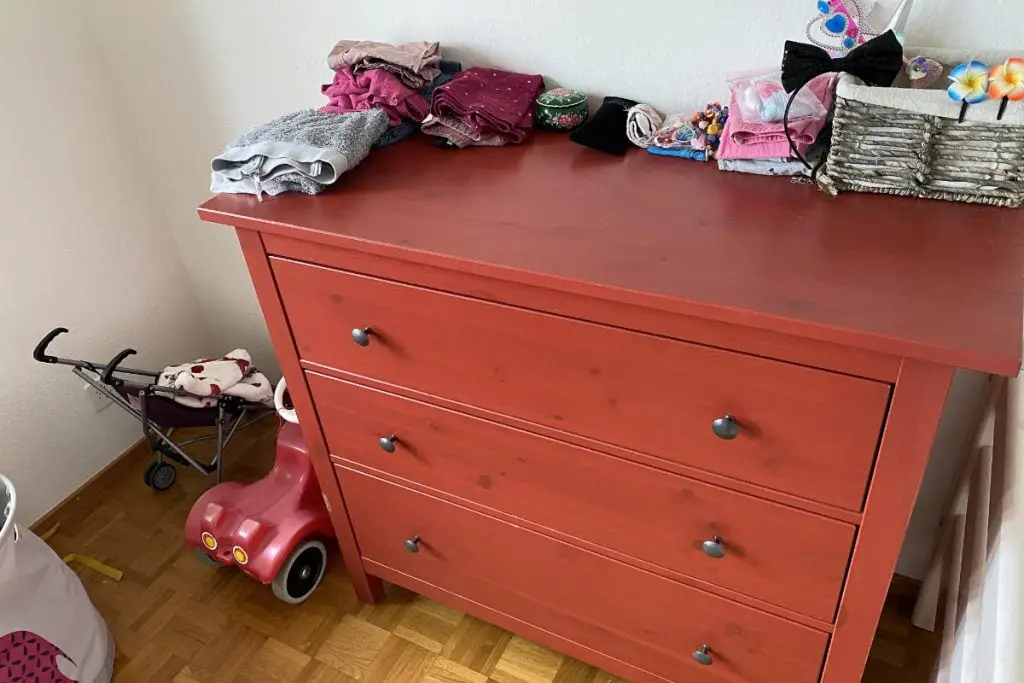 Once we had made a list of baby essentials, checked out other available storage space in our home, and factored in the nursery decor, we settled on an IKEA Hemnes. This came with three drawers which is more than sufficient for stashing our daughter's essentials. 
Placed items we need regularly into the 3 drawers
Before packing the baby dresser, we decided what items were used regularly and stored those in the three drawers. This included the diapers when our daughter was using them, changing products, and the clothing that she wears every day. This approach helped us to stay organized without overcrowding the baby dresser. 
Considering the season we're in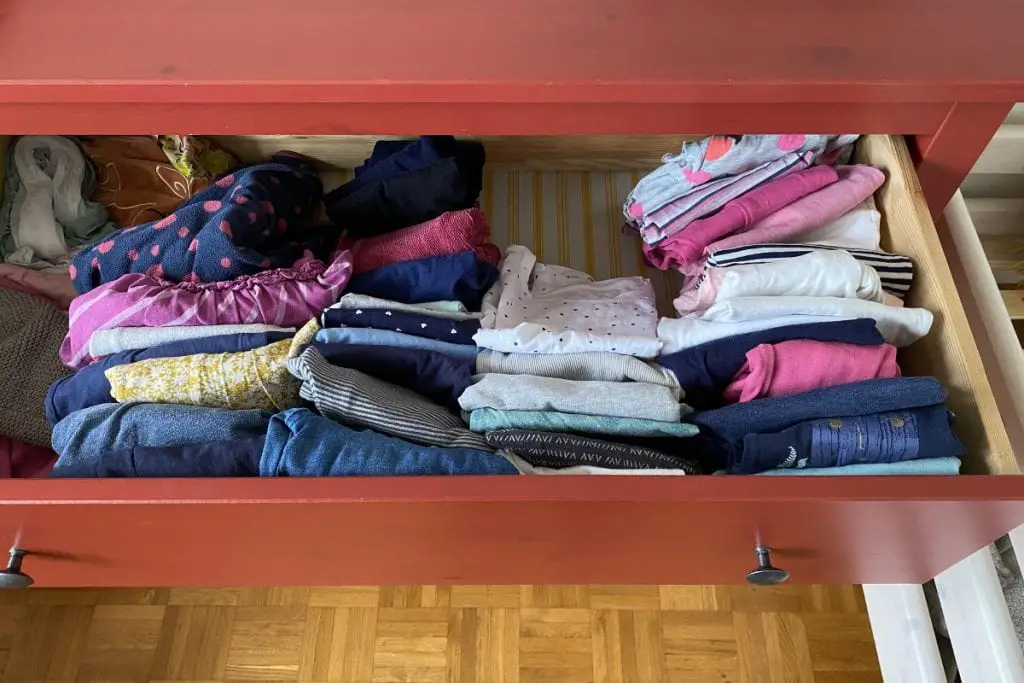 Besides only packing the "regular" items in our IKEA Hemnes dresser, we consider the seasons. Winter clothes not being used in the warmer months are stored in plastic containers and put away during the summer months. Likewise, we do the same with her summer clothes. This way, we only pack seasonal garments in the dresser. 
Here in the top drawer you only see clothes that we thought suitable for autumn – no short-sleeved T-shirt or shorts visible.
Conclusion
Knowing how many baby essentials and other items you'll be packing in the nursery dresser is a good place to start with deciding on how many drawers you need. Parents wondering about how many crib sheets are actually needed will often find that more than less is better, so don't underestimate the storage space needed! Three to six drawers do the trick!