As kids get older, their playing interests change. They want to play with toys that can result in sophisticated and simple designs, such as using building bricks. Here I have compared Lego vs Lepin to help you make the right decision between the two. Lego is known by all dads and moms. But what about Lepin?
My top picks
Lego vs Lepin – who are they and what's the difference?
Lego and Lepin are toy brands that produce colorful interlocking plastic bricks and an array of accompanying parts. They can be assembled and connected in many ways to construct objects, including vehicles, buildings, among others. With Lego collections with different themes, it's fun for children to play and build various structures with the bricks.
Building and construction toys are super fun and challenge children's thinking, creativity, boost motor skills, allows for both solo and collaborative fun. You may ask: which brand should I pick, what's the difference?
By now, you must have heard that Lepin sets are fake imitations of Lego sets. On the other hand, Lego is the genuine creator of products and heavily invests in development, high-quality manufacturing. According to BBC, police raided the Chinese toymaker and confiscated more than 630,000 finished bricks that were very similar to Lego sets. I don't recommend that you purchase Lepin building blocks. Since they're fake, nobody can guarantee that the standards that the toymaker used satisfy proper standards or safety precautions. I always go for toys or products from genuine manufactures, even when they cost a little more because you are assured of safety and quality. Here's a detailed comparison of how a toy looks like from these two brands.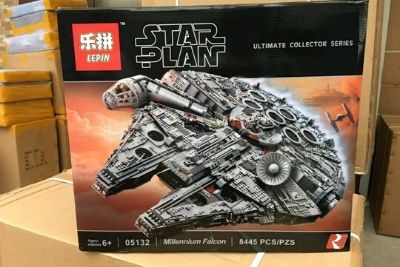 Lego has been a well-established manufacturer since the 1930s, gaining experience on building sets that not only challenge your little one but create incredible designs. The company has perfected the art of brick making for kids by maintaining interesting designs, and following safety standards.
Main features – similarities and Differences
Choosing Lego toys can be challenging. These features will help you understand why Legos are an excellent option for kids. We don't really elaborate more on Lepin since you shouldn't really go down that path.
Durability
To enable your child to use the playing bricks for many years to come, the quality of the toys matters. You probably don't want to keep ordering toys just because you make the wrong selection in terms of the quality of the material used.
Lego bricks are made from long-lasting plastic material, making them durable. However, the company takes quality control measures to ensure each brick is made to last.
Usability
Lego pieces are kid-friendly and make playtime easier. These sets come with pre-suggested projects and easy to follow instructions to get the kids started right away. If you are looking for an easy and exciting puzzle-like game for kids, these might be your best option.
Weigh
Lego bricks are light for kids to play with. Children can lift and carry these toys wherever they want to play.
Safety
With all the toys, the security of the material used to make them will define which brand you will choose. With Lego, the material used is 100% plastic, meaning they are not dangerous for kids. They have no side effects on kid's hands, inhalation, or even when your little one puts them in their mouth. Lego bricks are however small, so ensure you are always close-by when your kid is playing, so they don't choke on them. Kids grow and stop chewing on toys, so this is only for a while. Alternatively, you can start your little one off with blocks. Check out my Mega Bloks vs Duplo review for more information.
Compatibility
The adaptability of toy building bricks with others can guide you in buying the appropriate brand. It will allow you to evolve new creations by combining different brands. Lego bricks are compatible with each other and with other blocks from other brands. For instance, Lego is compatible with Play Platoon building blocks, K'Nex Bricks, Lightaling building blocks, among others.
Best overall – LEGO Classic Medium Creative Brick Box
You really can't go wrong with LEGO Classic Medium Creative Brick Box. This set has everything your kids will need to build intricate Lego designs. It contains 484 pieces, and it's designed for kids aged 4 years and up. There are 35 different colors in the set, and in addition to standard bricks, you can also get baseplates, windows, doors, wheels, and eyes.
So, whether your little ones want to construct a Lego city from the ground up or create cars to race, this kit has all the pieces they need to unleash their imagination. Overall, this set is a great toy to encourage open-ended play, and it all comes at a reasonable price.
Why you should consider it
Easy to clean – It comes in a plastic container that makes cleanup easy
Project suggestions – It comes with pre-suggested projects, and instructions to get kids started immediately
Safe – Everything in this set is made from non-toxic materials, making it suitable for little kids to play with
Long-lasting – Durable and not easily breakable, allowing the kids to use it for years without the need for replacement
Light-weight – The pieces are very light and hence safe for kids to play without the fear of being injured in case the structures fall on them
Different colors – The colorful toys will inspire the children to use their imagination to bring to life any building, encouraging kids' playtime and creativity throughout the process.
Drawbacks
Not suitable for children under 3 years old because it contains small toys, which might cause a choking hazard
CHECK PRICE ON AMAZON
Lightweight option – LEGO Classic Creative Bricks
The building possibilities are endless with LEGO Classic Creative Brick. The set comes with classic bricks in 29 different colors and unique pieces, including doors, windows, wheels, eyes, and propellers. If your kids don't know where to start with this classic Lego creative set, they can find instructions with some startup ideas to get you going. It features 221 pieces of Lego bricks with a wide range of 29 vibrant colors.
If you're on the hunt for an engaging toy that won't break your bank account, this set is worth considering. The learning toy is suitable for elementary school kids as young as 4 years and up. Whether you have another Lego brick set or just looking for one, this set is an ideal supplement to any existing Lego collection.
Why you should consider it
Easy to maintain – It is made of plastic material, which is easy to clean, ensuring high hygiene
Easy to use – It comes with simple, easy to follow instructions to enable the kids to get their building, cars, and trains up and going
Safe – Since kids tend to put anything in their mouths, Lego pieces are made from non-toxic compounds, making them children-friendly
Reliable – You can rely on this Lego set to serve your kids for years without breaking and cracking
Light – The pieces are light-weight for kids to carry and place wherever they want with no help
Vibrant colors – The toys are colorful, inspiring kids to play with and have fun for a long time
Drawbacks
Has fewer pieces compared to others
Not suitable for kids below 3 years
CHECK PRICE ON AMAZON
LEGO Classic Blue Baseplate
The LEGO Classic Blue Baseplate is a perfect starting point for your little one's Lego creations. With a blue Lego baseplate, you can create your own world from a cozy seaside town to a sunny swimming pool to ship on the high seas. You can design whatever you can imagine with this beautifully colored blue building plate perfect base for building, displaying, and playing with your Lego creations
Lego classic blue base plate is designed for young kids below 4 years. The good thing about this Lego set is that its construction toys are compatible with all Lego building sets for creative building. Bring the seaside in your house with this classic Lego set and allow your children to unleash their imaginations and creativity.
Why you should consider it
Compatibility – You don't have to throw away your other Lego collections, as this set is adaptable to them. Its blue baseplate can fit all different types of Lego sets
Hygienic – These pieces are easy to clean and maintain as they are made of plastic
Non-toxic – You will have to worry about your kid's healthy with this Lego building set. The materials used are non-toxic and very safe for kids playing purposes
Durable – It will serve your kid's play needs for years without being damaged
Various colors – Apart from blue, you can get any baseplate of your favorite or desired color
Drawbacks
Age restrictions to 4 years and above
CHECK PRICE ON AMAZON
Wrap-up
When you're shopping for building and construction toys, you'll find a wide array of choices that can be confusing. Now that you have had an idea from our top picks, you can choose any of those depending on your child's age to encourage creative development and have fun at the same time. I strongly recommend you go for Lego because of their credibility, experience, and safety standard compared to Lepin. Being a fake brand, you can't be too sure of what you are getting. Although they are cheaper, I always put quality and safety first. The Lego packs are usually durable, lightweight, and easy to use so your little one has maximum fun when creating new toys. I love Lego since my childhood and I can't wait to play with my daughter when she gets old enough soon to play. Right now instead we play with Mega Bloks as you see it here.
Last update on 2021-08-01 / Affiliate links / Images from Amazon Product Advertising API