Whenever my toddler daughter gets a new stuffed animal toy, she gets quite creative with naming it! And she expects us to help her along. Finding cute or funny names for your child's favorite stuffed animal does require getting quite imaginative especially when all the favorite names have already been used up.
This is why I wrote this article: to spur your creativity by giving 429 example names for 38 different animals. In the worst case these can be good starting points so you and your child can come up with the right final name. In the best case they might find one of these just the right unique name for your new teddy bear, stuffed elephant dinosaur or monkey.
Names for Stuffed Animal Bears, for example cute teddy bears
Here are some lovable options for naming your child's first teddy bear:
Buttercup
Baloo
Gummy Bear
Pooky
Snuggles
Fudge
Eddie
Cinnamon
Reese
Pal
Cocoa
Fudge
Tootsie
Buddy
Patch
Paddington
Pooh Bear
Winnie
Elvis
Yogi
Names for Stuffed Elephants
I reckon every family owns an "Ellie" in their home! But what other name can you give to your child's plush toy?
Nelly
Jumbo
Bubbles
Clumsy
Chomper
Jellybean
Dumbo
Manny 
Shep 
Hathi 
Babar (from the 1931 French children's book called "Histoire de Babar")
Names for Stuffed Bunnies
These floppy-eared creatures are loved by both girls and boys and there's no shortage of cute bunny names. 
Hopper
Speedo
Bunnyosaurus
Hopps
Daisy
Angora
Fergie
Skippy
Big Foot
Flopsy
Hopscotch
Cute Names for Stuffed Animal Dinosaurs
Stuffed dinosaurs are popular with boys but I know a few little girls who adore them too. These ginormous animals can have cute names too!
Triceratops
T Rex
Fluffosaurus
Tyroam
Roary
Snugglesaurus
Toroncotoncus
Raptorex
Spinosaurus
Zini 
Neera
Names for Stuffed Monkeys
Long-limbed stuffed monkeys with cute, grinning faces are a hit with children of all ages. 
Bingo
Matata
King Kong 
Milo
Kiki
Chimp
Bonzo
Lolo
Yono
Rafiki
Booby
Names for Stuffed Dogs
Think Paw Patrol and you have a whole lot of names to pick from for your child's favorite stuffed dog. But, if you're looking for something more original then check out my list below:
Slinky
Tatu
Moja
Scud
Buster
Whopper
Squinky
Gidget
Pluto
Goofy
Lady
Tramp
Names for Stuffed Cats
Whatever stuffed cat toy your child has got, make sure you give it a name to remember it for many years.
Softie
Tinkie
Scarry
Whiskers
Buttons
Patches
Charlie
Abby
Roxie
Toffee
Caramel
Names for Stuffed Lions
Children love the movie "The Lion King" so don't be surprised if they decide to call their stuffed lion after one of the characters. 
Mufasa
Sarafina
Scar
King
Scarface
Roar
Shaz
Champ
Toto
Simba
Leo
Names for Stuffed Ducks
When your child is given a bright, yellow duck you may be wondering about a name for it. 
Quack 
Donald
Puddle
Jemima
Daffy
Waddles
Fluffy
Wiggles
Daisy 
Duck
Dixie
Maddy
Names for Stuffed Chicken
If your child is into farm animals they may insist on a stuffed chicken as a pet toy. 
Rooster 
Henny Penny 
Peep
Taco
Drumstick
Feathers
Cluckles
Chicken Little
Molly
Ozzy
Beak Ben
Names for Stuffed Horses
Horses are beautiful creatures and if your child has fallen in love with their stuffed horse, you'll need to help them find a special name for their toy. 
Kingston
Redrum 
Beau
Buck
Champion
Trigger
Buttercup
Buttermilk
Pinkie Pie
Princess Luna
Rain
Names for Stuffed Animal Cows
Stuffed cows are great for adding to your child's collection of soft farmyard animals. Why not give it one of these names?
Bessie
Duke
Charlotte
Coby
Gertie
Dairy
Tulip
Bumble
Blossom
Clover
Jersey
Names for Stuffed Animal Octopus
Your child's stuffed animal octopus could end up being called Pearl if it's gloriously pink or "Hank" if the toy is for your son. But, here are some other pretty cool names: 
Tentacle
Octavio
Eight Legs
Scuba Doo
Octo
Knot
Ozy
Inky
Captain
Aquaman / Aqualady
Dr. Octopus
Names for Stuffed Animal Unicorns
There's nothing quite as magical as a stuffed unicorn so make sure you give it an extraordinary name!
Starburst
Glitter
Luna
Jewel
Magic Dust
Milky Way
Kawai
Sitara
Sapphire
Starflower
Black Diamond
Names for Stuffed Dolphins
Use your imagination to help your child find the perfect name for their plush dolphin.
Chirp
Bluey
Happy
Fin
Flipper
Alpha
Snorky
Snowflake
Beta
Chum
Names for Stuffed Dragons
Another magical creature that gets your child's imagination running wild is the dragon. 
Falkor
Haku
Maleficent
Thorn
Draco
Kai
Tyson
Brenna
Hydra
Nuri
Kaida
Names for Stuffed Frogs
Stuffed frogs are cute so have some fun giving your child's froggie toy one of these names:
Jeremiah
Lollihops
Mr. Toad 
Tad Pole
Gorf (frog spelled backward!)
Hopalong
Croak
Warts
Ribbet
Zippy
Webfeet
Names for Stuffed Flamingos
Your baby girl would love a dainty pink stuffed flamingo to add to her collection of soft toys. Help her pick a special name for this long-legged bird.
Pinkie Pop
Strawberry
Petals
Stilts
Coral
Florence
Flamenco
Pom Pom
Candy Pie
Cotton Candy
Pearl
Names for Stuffed Foxes
Foxes can be crafty so be clever when coming up with a name for your child's stuffed fox.
Basil Brush 
Fiona Fox
Mr.or Mrs.Fox
Ferdie Fox
Arizona
Felix
Todd
Rocky
Frankie
Swiper
Bingo
Names for Stuffed Hedgehogs
Hedgehogs are sweet little spikey creatures often found wrapped up into a tiny ball. Give your little one's stuffed hedgehog a cute and sweet name too!
Butterball
Squillo
Hedge
Cactus
Hokey Pokey
Prickles
Spike
Quills
Hoggy Hog
Beebo
Harry Hedgehog
Names for Stuffed Hippos
With bulky bodies, little children will enjoy cuddling up with their stuffed hippos. But what should you call it? 
Pygmy
Fifi
Flavio
Pippo
Boo Boo
Jemma
Hippie
Gimmy
Hannah
Snorty Sma
Mudpatch
Names for Stuffed llamas
They may look haughty but a stuffed llama will make every child happy!
Dolly
Maverick
Llama Mia
Fuzzy
Fluffy
Furball
Spritz
Snookie
Wuz
Dancer
Bootsie
Names for Stuffed Lambs
These gentle creatures make wonderful stuffed toys for babies. 
BahBah
Buttercream
Skittles
Sweet Pea
Tinker Bell
Wooly
Shepherd
Little Bo Peep
Sugar Pie
Mittens
Cream Puff
Names for Stuffed Moose
You may be tempted to call your child's stuffed moose Moose A. Moose from the well-known childrens' TV series called, "Moose and Zee". But, let's keep it simple with these names:
Antlers
Marty
Millie
Mushu
Moosy
Bullwinkle (another famous moose TV character)
Tuke
Maximoose
Tutu
Tuffy
Pookie
Names for Stuffed Monsters
Uncles can't resist giving their nephews cute stuffed monsters so you better come up with an equally cool name!
Hulk
Godzilla
Mighty
Ogre
Whopper
Monster
Beasty
Bigfoot
Yeti
Skunk Face
Shrek
Names for Stuffed Owls
We all know "Friend Owl" from Bambi so you could give your child's stuffed owl the same name. But, here's another 11 owl names to pick from:
Big Eyes
Hoot
Blink
Owly
Dr. Whoo
Bubo
Barney
Ollie
Bobo
Puff
Spooky
Names for Stuffed Otters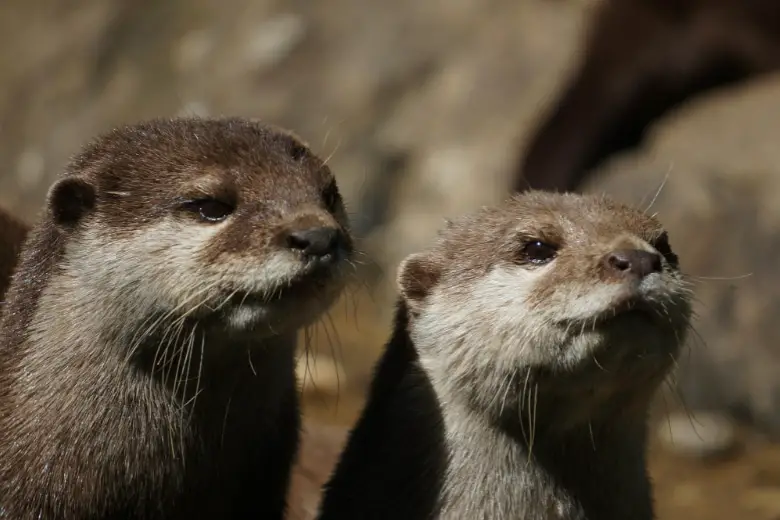 Otters are super cute furry water creatures so your child's stuffed otter deserves a special name.
Bizzy
Marigold
Brown Eyes
Fitch
Frisky
Po
Scooby
Polo
Roller
Tugger
Rogue
Names for Stuffed Pigs
Oink! Oink! You can't help but say this every time you see your child's stuffed pig toy. But, consider picking one of the following names instead:
Piglet
Peggy
Daffodil
Blossom
Bacon
Hickory
Squiggle
Lovebug
Oreo
Warthog
Ranger
Names for Stuffed Penguins
A stuffed penguin makes a wonderful gift for a child who loves sea animals. Here are some names you can call it:
Tacky
Polly
Munchkin
Weeny
Cheeku
Skipper
Tux 
Scamper
Tootsie
Rolly
Pingu
Names for Stuffed Reindeers
Reindeers are antlered creatures often fondly associated with Santa Claus.
Dasher
Rudolph
Prancer
Donner
Bing
Frosty
Fa-la-la
Sleigh
Tinsel
Santa
Merry
Names for Stuffed Rhinos
Finding the best name for the mighty horned stuffed rhino may leave you stumped. Check out my pick of the best for this beast!
Doris
Devon
Milo
Moses
Zen
Bulldozer
Bighead
Snoutie
Baby Horn
Stompie
Charge
Names for Stuffed Racoons
A stripy-tailed stuffed raccoon should be included in every child's collection of soft animals. 
Ranker
Bandit
Shadow
Rascal
Ringo
Prowler
Rocco
Tico
Meeko
Rocket
Dash
Names for Stuffed Sharks
You may want to call your little one's stuffed shark "Jaws" but let's get a bit more innovative here!
Tyrant
Thug
Fancy Fin
Torpedo
Bomber
Missile
Pokey
Finny
Dart
Zippy
Riptide
Names for Stuffed Sloths
Sloths are delightful animals who always look pretty relaxed about life.
Dopey
Kipper
Mr. Lazy
Odin
Sleepy Jane
Kakoo
Waldo
Dozer
The Rock
Rambo
Sleepy Head
Names for Stuffed Sheep
Your child's fluffy white stuffed sheep can be called many different cute names.
Snowflake
Whitey
BaaBaa
Fluff Fluff
Twinkle
Creamo
Snowball
Wool-Ma
Mary
Snuggles
Meadow
Names for Stuffed Seals
Stuffed seals are another addition to your child's sea animal toy collection. Make it unique by calling it one of the following names:
Silver
Dart
Sea Lion
Monk
Rudder
Chip
Flynn
Flapper
Snorky
Boogie Woogie
Blurb
Names for Stuffed Tigers
Tigers capture every child's imagination and when they are given a stuffed tiger animal they want to give it just the right name!
Tigger
Garfield
Stripy
Waffles
Jinxy
Scratchy
Tigerman
Indy
Zara
Shere Khan
Claw
Names for Stuffed Turtles
Turtles are hard-shelled creatures often found making their way down a sandy beach to the ocean. 
Did you know you could name your stuffed turtle also based on the Ninja Turtles' names? I gave one option below (Donatello) but there are another 3 names to choose from.
Sandy
Rosy
Flipflop
Belly
Shelly
Beaky
Paddles
Maxy
Speedy
Flippy
Bubbles
Donatello
Tips for Naming Your Child's Favorite Stuffed Animal
You might want come up with some funny or creative name for the stuffed animal for a number of reasons. One reason I've had recently is when my child was suddenly scared of her stuffed dinosaur. In any case, here are some tips on how to come up with a great name.
Be Inspired By Its Appearance
Sit with your child and look at the stuffed animal. Be inspired by any special features that stands out making its appearance unique. These could include:
Size, shape, and color
Webbed feet or striped fur 
Fins 
Horns, antlers, and tusks
When looking at your child's enormous stuffed dinosaur you could consider calling it Ginormous Rex. Silver is a lovely name for the silky gray stuffed seal your daughter adores. And, that long-necked, spindly-legged flamingo? The shape alone makes you want to call it Stilts or Necky!
Is There a Popular Character Already Around?
Winnie the Pooh is a popular character and it's not unusual to give a teddy bear this name. Simba, Scar, and Sarafina are some famous names for lion toys from "The Lion King". Famous Disney characters such as Pluto and Goofy are often used to name stuffed dogs. When you struggle for a name, turn to these popular characters to help you out.
Is There a Famous Person?
Named after the 1901 American president, Theodore Roosevelt, the "Teddy" bear has become one of the most popular children's stuffed animal toys. Napoleon Bonaparte is another famous name used for stuffed animals such as teddy bears, dogs, and even cats. Bo Peep is a well-known "person" in the nursery rhyme and her name is often used for lambs and sheep. 
Pick a Simple Name
Picking a simple name is essential for younger children. This way they can remember the name of their favorite stuffed animal and pronounce it easily. Try and pick names that have one or two syllables in the name.
Rely on the Theme (if there's one)
If your child is collecting a range of stuffed animals for a particular theme such as sea creatures or the farmyard, stick to names that relate to these themes. You could also find a popular children's book or movie and name all the soft toys after the characters. 
Shortlist a Few Names With Your child or With Other Children
Go through the list of names I've included in this article or come up with your own list. When you've got a few names written down, sit with your child and their siblings and get them to vote which ones they like best. This way you can shortlist the names for further discussion. Watch this video as it gives some useful tips around selecting a name for a stuffed animal. 
Choose a Final One With Your Child Via Discussion or a Game
If there's still some debate about the final name for your child's soft toy, you may need to turn it into a game especially if your child is still struggling to pick between two or three names. Write the names onto pieces of paper and place them into a hat. Let your child take out one card with that name being the final one. 
Wrap Up
A lot of thought can go into picking the best name for a stuffed animal. While your child may be able to find one on their own, many do battle to find the perfect name. This is where parents can assist them in finding the best name most appropriate for their plush animal toy.
With 427 names to pick from here, I'm sure you'll easily spot the right name for your child's favorite stuffed animal. 
And once you've picked the right names for perhaps dozens of animals, you might be struggling with storing them? Here are some toy boxes and chests so you can get organized.