It's hard to recall life before the smartphone. Smartphones have changed our lives — for the better. And now you can even use them to keep an eye on your baby in your absence.
Here are the best free (and paid) baby bonitor apps for iPhone and Android.
What is a Baby Monitor App?
We can't always be with our little ones 24/7. Life simply won't allow it. If you're not off to work, you're either grocery-shopping, hitting the gym or maybe even traveling. But as a parent, you always want reassurance that your child is safe, comfortable and happy.
While you can always get a report from the nanny come end of day, sometimes you just want to see it for yourself. By installing a baby monitor app on your smartphone, you can watch, listen and talk to your little one from almost anywhere. In other words, you can convert your smartphone or smart device into a baby monitor.
A baby monitor app not only records what your little one is doing, but also provides you with real-time alerts. You simply need to pick the right app which is compatible with your smart device. Do you need an app for an Android or iPhone? After this, you can decide whether you want a paid or free baby monitor app.
Today I'm specifically focusing on free baby monitor apps because I believe that the basic functionalities should be more than good enough for most of us. Of course, if you need more advanced monitoring you'll need to fork out a bit more for that higher sense of security as a parent. I'll dive into the main differences between free baby monitor apps and those you'll have to pay for and you can decide for yourself if you'd be willing to pay for those extra features.
Why a Baby Monitor App?
You could purchase a baby monitor or dedicated nanny cam and they'd equally do the job, right? So why am I advocating for a baby monitor app? Well firstly, you'll look cool in front of your friends but most importantly:
It's an affordable option – Downloading a baby monitor app is certainly much cheaper than purchasing an actual baby monitor or nanny cam. This is especially true if you pick a free version.
You can keep an eye on your baby constantly – Because let's face it, your smartphone is almost always in your hand.
Multiple people can check in on your child – Do you want grandma to be able to see her grandchild from her home? Simply give her your log-in details and she is free to do so.
It's one less device to carry around – Purchasing a conventional baby monitor means that you need to move around with a parent unit. By using your phone as a baby monitor, you don't have to do so.
How Do You Turn Your Phone into a Baby Monitor?
You'll definitely need two smartphones or smart devices to pull this off. You don't have to necessarily splurge on an expensive extra device (unless of course you can afford to). Some parents are lucky enough to have an old smartphone lying around. Once you have the two smart devices you:
Download the app onto both phones.
Use one phone as the baby unit by placing it in the nursery facing your child (Make sure it's not too far).
Double-check if it's connected to Wi-Fi (if it requires internet access) or pair using Bluetooth functionality.
Use your smartphone as the parent unit and you're all set!
Have a look at these two videos below for more clarification on how to turn your Android or iPhone device respectively into a baby monitor.
Features to Look for In Baby Monitor Apps
Now, if you visit the Playstore or Apple store, you'll come across countless baby monitor apps. This can make it difficult to pick one. How will you know which one is the best app? Fortunately for you, I've done all the legwork for you. You just need to realize that certain features present in paid apps will be absent in free apps (for obvious reasons). I'll make the distinction between the two apps evident shortly. Just note that whether you pick a free or paid baby monitor app, make sure that it's easy to use. The last thing you need is a complex app that's difficult to figure out, set up or operate.
Free Baby Monitor Apps
Security features – Unfortunately hacking is real. So, there definitely is a possibility that unauthorized users can hack into your video streams. This is why you need to pick an app with end-to-end encryption of both audio and video streaming.
Talkback function – Certain free baby monitor apps have a talkback function. This way you can talk to or soothe your little one when he or she is in distress.
Adjustable light – An app that allows you to adjust the light from your device especially at night via your phone is handy. You don't need a bright light distracting your baby while they try to fall asleep.
Noise detection – Some free apps allow you to get instant alerts on your phone when your baby cries.
Battery indication – An app that shows your phone's battery level will notify you if the device needs to be powered up. Note that this refers to the unit that you leave in your baby's room.
Paid Baby Monitor Apps
Most paid baby monitor apps have the previously mentioned features — and more. Features that you're likely to find exclusive to paid versions include:
Enhanced security features – While you can find secure features in both free and paid versions, the difference lies in the level of security offered. A paid baby monitor app is likely to have more security features compared to its free counterpart. And by picking an app with enhanced security features, the chances of keeping your footage secure and private are much higher.
Block out harmful content – It's no secret how certain apps are laced with links and ads that can lead to harmful content such as pornography or links to gambling sites. Paid baby monitor apps allow you to block these out.
Track real-time location of device – While free baby monitor apps may allow you to receive alerts in real-time, paid apps take it a step further by providing you with the real-time location data too. You'll know your baby's whereabouts. This is something you'll appreciate when you're monitoring older children.
Check device history – Do you want to know if the second phone is only being used as a baby monitor or also keeping the nanny or your other older kids entertained? Paid monitor apps allow you to obtain information pertaining to social media or gaming activity.
Cross-platform support – Earlier on I mentioned how you can allow multiple people to see your baby via the app. This scenario is more likely using the paid baby monitor app compared to the free one.
Play lullabies – Some paid monitor apps are designed to play your child lullabies remotely. Few if not zero free baby monitor apps allow the same.
Unlimited recording – Baby monitor apps allow you to record your baby's activities throughout the day so that you can play the footage later. While both free and paid apps can have this function, certain paid versions allow for unlimited recording. The same can't be said about free baby monitor apps that limit recorded footage.
Best monitor for Android (Paid)
Based on my research, the Dormi Baby Monitor is the best for Android devices and will cost you $0.99 monthly or you can pay $8.99 as a once-off payment for unlimited usage.
Best monitor for iPhone (Paid)
Anf if you're an iPhone owner like me, the Cloud Baby Monitor App is one of the best paid apps for you; it costs a mere $5.49.
Best Free Baby Monitor Apps for Android – Top 5
This is one of the best free baby monitor apps for Android users. What I love about this baby monitor app is that it's one of the few free apps that don't show ads. The app comes with a number of useful features including alerting you in real-time if your child is crying. Even if you're in the middle of a Skype or regular call, the alerts still come through. The app also allows for audio monitoring to detect any sounds coming from your baby's room. To take it a step further, you can even adjust the microphone sensitivity to detect even the slightest noises. If the baby unit is running low on battery, you're also notified via your phone. Unfortunately, it's an audio-only app that doesn't allow you to keep a literal eye on your baby. Plus, you can't talk to your baby or soothe them when in distress.
Think of this baby monitor app as your personalized home surveillance system that's designed to convert your Android smartphone into a camera. What I like about this app is that it features a motion sensor feature. If movement is detected in your baby's room, you'll receive a notification (but only if you activate this feature). Other than that, you can enjoy features such as the two-way communication function. You're able to calm your child down or communicate with the nanny via the intercom. This app also allows you to adjust the light on your device to Night Mode. It's also pretty secure and ensures that all your videos are encrypted. The app does have ads popping up every now and again. But if you pay $0.99, the ads can be removed.
Parents who want a free baby monitor app that's extremely easy to use must opt for this option. You simply need to connect the two devices to the same Wi-Fi source. Place one in your baby's room, keep one for you and that's it. Features you can enjoy using this free app include noise detection. You're notified of any sounds coming out of your baby's room. You're alerted if your battery is running low on power. Best of all, the app doesn't use up a lot of power. Unfortunately, it only offers the audio function under the free version. To access the video function, you'll have to upgrade to the paid version. Also, some people find that the app experiences connectivity issues.
This is another simple to set up app that's compatible with Android devices. Unlike other apps that require you to sign up and enter your personal information, you only need to pair your devices with each other and enter the verification code provided. By using this app you'll get instant alerts when your baby cries. Also, I love that it's one of the few free Android baby monitor apps that allows you to see your baby. And it also offers a two-way talkback function. Unfortunately you can't play your child lullabies via this app. Plus, it also doesn't allow for multi-child monitoring.
This baby monitor app doesn't require internet access. You simply place the phone near your baby, add your contact number and start the device. When noises or sounds are detected in your baby's room, the phone will text or call your number. The same app also allows for image surveillance. If the alarm is triggered, the phone takes a picture of your baby and sends it to your phone. The app doesn't offer both audio and video imaging capabilities, only pictures. But it's better than not seeing your baby at all, right?
The Best Free Baby Monitor Apps for iPhone – my top 5
Easy Baby Monitor
Parents looking for an easy-to-use baby app monitor compatible with iPhones will love this option. Despite being a free app, it allows for both video and audio recording. You'll receive alerts on your phone if noise is detected from your baby's room and also if your device's battery is running low. You can adjust the light on the phone via the app to Night Mode when necessary. Plus, the app also allows for two-way communication. Other than an inability to play lullabies, which is hardly a deal-breaker, there are no downsides to using this app.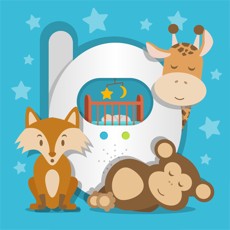 This is another free baby monitor app that allows you to keep an eye on your child thanks to the video streaming function. I love that the app offers unlimited reach so you won't be experiencing any connectivity issues if you decide on this option. The same app also allows for multi-parent support that's if you want more people to check in on your baby. Plus you'll love how setting up the app takes you less than 30 seconds.
Video Baby Cam
This app is also easy to set up because the entire process will take you less than five minutes. By installing this app, you can enjoy 24/7 live streaming and keep your eye on your baby always. The app allows for two-way communication so you can calm your baby down when necessary. Any movement in your baby's room is also detected and you're immediately alerted via your smart device.  Other impressive features that come with the app include night light, battery indication, and multiple device connectivity. The only disadvantage to using this app is that it can sometimes be glitchy resulting in frozen images as opposed to live footage.
This baby monitor app allows for both audio and video recording. You're immediately alerted when your baby wakes up. I like how this app runs in the background. You can still receive alerts while you're using your device to attend to other things. You'll appreciate how the app doesn't use much battery power. The app is sometimes glitchy. Plus it sometimes stops audio streaming particularly when there's no sound. It follows that this option won't work for you if your child has underlying breathing problems.
For no charge at all, you can download this all-in-one app that allows for both Bluetooth and Wi-Fi functionality. If you happen to experience Wi-Fi connectivity issues or don't have Wi-Fi at all, you simply switch to the Bluetooth function. Firstly, I like how easy this app is to use. Secondly, it comes with impressive features such as photo and video sharing of your baby with your loved ones. The app automatically takes a screenshot of your live video feed between every 5 and 60 seconds and shares it to your phone.
FAQ
Do all baby monitor apps need Wi-Fi?
No, this depends on the brand in question. However, you'll find apps that don't require Wi-Fi such as the BabyMonitor MVA reviewed above.
Are there any baby monitor apps that are compatible with both Android and iPhone devices?
Yes, you'll find baby monitor apps that are compatible with both Android and iPhone platforms such as Baby Monitor 3G.
Summary
It's clear that baby monitor apps are a must-have. Not only are they a much cheaper option compared to purchasing actual baby monitors, but they're convenient too.
Now, whether you decide to pick between a paid or free baby monitor app is entirely up to you. Some might even work with an iPad / table if you need another solution for a baby monitor.
But it seems like Android users get the short end of the stick when it comes to making a choice between the two.
Here's why: as you've probably noticed, apps that are compatible with iPhone devices have more features including video streaming. Unfortunately the same can't be said for free baby monitor apps that are compatible with Android devices as they seldom have the video function and other features (save for a few options). It follows that your best bet as an Android user is to opt for the paid version if you want to get the most out of the app.