To make your search easier, I recommend the Chicco Liteway Stroller. It's lightweight so you can quickly move around with during your tour. Otherwise keep reading to find out some other best stroller options for Disney.
When you consider bringing your children along to a place like Disney, they will probably require to take breaks which could slow you down. That's where a stroller comes in handy. Whenever they need a rest, just place them inside and continue walking.
My top picks
How to pick the best stroller for Disney
Stroller type
There are numerous variations of strollers currently available. There are those built for traveling, jogging, short walks, and multiple children to name a few. There are also options that work only for toddlers, newborns, or infants. One size doesn't fit all these functions and age groups. However, there are those with enhancements to accommodate more than one purpose.
Cost of the stroller
As with all purchases, your budget plays a significant role in what you can get. Whether you're willing to splurge or you're looking for budget options, browse all available choices first. A low budget doesn't mean you'll have to settle for low-quality strollers for Disney, the same way an expensive option doesn't guarantee that the stroller will perform better and last you longer.
Presence of a canopy
Children have sensitive skin. You cannot keep them out in the sun all day. Having a way to shield them from either too much sun or wind will make for a pleasant stroll. You'll also need to shade them a little when they need to rest. Choose a stroller version that comes with an adjustable or detachable canopy. Some even have visors added to the canopy for more shielding against the sun.
Fabric of the stroller
Kids can make a mess by spilling drinks, pouring food on places where they're not supposed to. Therefore the type of material of your stroller should be easy to wash. The majority of strollers come with polyester fabric for easy cleaning. Being a quick-drying fabric is another plus, as it means you don't have to leave it out for too long to dry.
Safety features on the stroller
Safety features vary from the availability of wheel locks to the type of harness for securing your baby. Tap-toe brakes, for instance, can be locked into place the minute you stop moving since you can quickly do it with your foot. That way, your stroller stays in place until you're ready to move again.
Areas you plan to use it
Do you want to use your stroller on bumpy terrain or smooth surfaces? All strollers work on flat surfaces. However, if you know you'll come across a few cobblestone paths here and there, you need to look for something with shock absorbers or pneumatic wheels. These help to minimize the impact your child feels.
Ease of use
A stroller that doesn't require you to be an engineer to assemble or fold is always your best option. You need to be able to quickly put it together after purchase, fold it when not in use, and open it up when needed. If you can't achieve these three movements without asking for help, look for another option.
Weight of the stroller
To move around with a stroller, you need something easy to carry as it's less of a hassle to push around than a heavy one. The weight gets determined mainly by the material used for its frame. Aluminum strollers are your best bet when looking for one that's a sturdy build as well as lightweight. You will do a lot of walking in Disney, so pick something that will be easy to push around.
Added accessories
Would you like a child's tray? Does it come with a parent's tray? Extra accessories that come with your stroller purchase are always a plus. You'll even come across ones that come with car seats. Once they're older, the same stroller can be adjusted so they can still use it.
Adjustable handlebars
You may purchase the stroller, but someone else offers to push your child around. Having a version with an adjustable handle means that whether tall or short, anyone can manage to move around the stroller.
Number of kids carried
You may have multiples like twins, or young children who are nearly of the same age. In such cases, getting more than one stroller would require you to have someone else, too to move around with the second child. However, there are tandem strollers that help you have both children securely in place as you move around. A plus with these is you won't need a second person to assist.
Most Lightweight – Chicco Liteway Stroller
Product info
Folded dimensions: 46x10x11.75
Assembled dimensions: 35x19x40
Stroller weight: 17.2 lbs
Frame material: aluminum
Color: Moon Grey, Fog, Ocean, Lagoon, Astral, Sunset
What makes it a good option
It can stand out as one of the best strollers for a Disney tour due to its portability. It has an aluminum frame, making it lightweight but sturdy. There's a high chance you don't live around the corner from Disney so you'll have to travel there by plane. The lightweight construction makes it easy to take it with you. When not in use, you can fold it up and carry it using the attached carry handle. Depending on your child's size, there are four backrest levels to ensure comfort for your young one. In case it's sunny, there's an adjustable canopy to provide shade. It comes with a peek-a-boo slot so you can quickly check on your child while you walk. The rear wheels have suspension mechanisms that make it easy to use on uneven surfaces. In case of any dirt or a mess, the removable fabrics can be hand washed whenever necessary. Other areas can easily be wiped clean.
Who it's ideal for?
It can be a great choice for babies who are six months or older and children with a maximum weight of 40 pounds.
Pros
Lightweight
Can be folded for easier transportation and to save on space
Has a storage basket
Comes with a cup holder for the parent
Has an adjustable canopy
Bckrest is adjustable to four levels
Rear wheels have suspension mechanism and toe-tap brakes
Safety lock on the front wheels
Cons
Not recommended for newborns
CHECK PRICE ON AMAZON
Best for Travel by Car – Chicco Bravo Trio Travel System
Product info
Stroller

Folded dimensions: 16x28x21.75 inches
Assembled dimensions: 35.5x43x21.75 inches
Stroller weight: 23 pounds
Frame material: metal and plastic
Color: Orion, Lilla, Indigo, Poetic, Nottingham, Papyrus, Meridian, Lake

Infant Car Seat

Dimensions: 22x17x24
Base dimensions: 20x15x8
Weight without base: 9.6 pounds
Base weight: 7 pounds
What makes it a good option
In case you require multiple functionalities with your purchase, the Chicco Bravo Trio Travel System could work for you. It's a stroller that comes with a detachable car seat. For infants you can include the car seat. With older babies you can use the stroller. The stroller has an adjustable backrest depending on what your baby needs. Its handlebars can also be adjusted, making it easy for tall and short individuals to use. All wheels have suspension, meaning that rides on bumpy surfaces won't be too much of an effort to handle. For the parent, there's a storage basket at the bottom to help you carry your luggage.
Who it's ideal for?
Both infants and toddlers can use it.
Pros
One-hand fold
Push handles are adjustable
All wheels have suspension mechanisms
Has a parent and baby tray
Can support children up to 50 pounds
Car seats with a click-in attachment can be used with it
Assembly is easy
Has a removable canopy
Backrest is adjustable to three positions
Fold handle turns into a carry handle
Cons
Combining the stroller and car seat makes it bulky to use
CHECK PRICE ON AMAZON
Best for Summer on a Budget – Summer 3D Lite Convenience Stroller
Product info
Folded dimensions: 2×10.25×9 inches
Assembled dimensions: 43x41x10.25 inches
Stroller weight: 13 pounds
Frame material: aluminum
Color: Black, Grey, Jet Black, Teal, Pink, Green, Blue
What makes it a good option
This stroller happens to be one of the lightest strollers on the market. It has an aluminum frame, and the fabric is polyester, making it easy to clean. You can adjust the seat through four different levels to suit your child. It can even recline to a nearly flat position so that your baby can sleep comfortably. The low seat level can also enable you to change your child's diaper if necessary. To secure your child there's a 5-point harness with extra padding. The straps can be adjusted to fit three different positions, depending on your child's height. You can use this stroller on various surfaces as the wheel positions can be locked, making navigation easier. The rear wheels also come with safety locks whenever you stop.
Who it's ideal for?
Best suited for children above six months as it can hold a maximum of 50 pounds.
Pros
Has a 5-point harness
Compact and portable when folded
Has a carry strap
Low reclining seat
Pop-out sun visor offers additional shade
Lightweight
Has a polyester lining
Safety harness has extra padding
Affordable
Quick to assemble
Cons
Children over 43 inches tall cannot fit in it
CHECK PRICE ON AMAZON
Best for All-terrain – Baby Trend Expedition Jogger Stroller
Product info
Folded dimensions: 23.5×16.75×33.75 inches
Assembled dimensions: 21x47x41 inches
Stroller weight: 26 pounds
Frame material: steel
Color: Topaz, Optic Pink, Lemon Zest, Picante, Optic Green, Raspberry, Bubble Gum, Millenium, Liberty, Vanguard, Phantom, Emerald, Optic Red, Carbon, Mosaic Blue, Tiger Lily
What makes it a good option
Being a jogging stroller, moving around Disney with this option will be a breeze. It comes with bicycle-style tires, suitable for different terrains. You get a better grip with its handles, as they're ergonomically designed and covered by rubber. The seat is padded, giving your child comfort whenever they're inside. To keep them in place is a 5-point harness. This stroller comes with footrest reflectors that make it easy to spot when there's minimal light. A big plus: you can use it also for jogging when you're not at Disney.
Who it's ideal for?
It works well for babies above six months, and less than 42 inches tall. However, if you have a car seat that you can attach, the stroller can work for infants under six months as well.
Pros
Can carry up to 50 pounds
Folding is fast and easy
Takes up minimal space when folded
Has a rubber handle for better grip and maneuvering
Seat reclines to accommodate bigger toddlers
You can attach a car seat for infants
Has a parent tray with a covered storage compartment
Has pneumatic bicycle wheels for all terrains
Cons
Doesn't come with shock-absorbing mechanisms on the wheels
A bit heavy due to the steel frame but hey, you get an all-terrain stroller so it does have to be sturdy somehow!
CHECK PRICE ON AMAZON
Best for Twins – Graco DuoGlider Double Stroller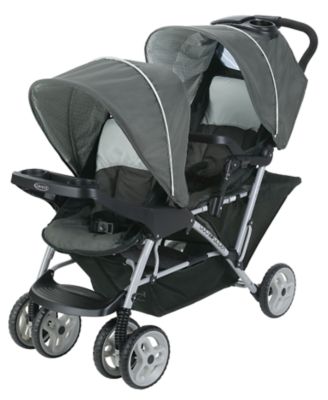 Product info
Folded dimensions: 29.5x42x20.5 inches
Assembled dimensions: 41x36x20.5 inches
Stroller weight: 29.5 pounds
Frame Material: Aluminum
Color: Glacier
What makes it a good option
For parents with twins, this could be the best stroller for your Disney tour. Why buy two strollers when you can simply get one that does the job right. With the Graco DuoGlider Double Stroller, even one parent can tour the amusement park's grounds without any trouble maneuvering. I prefer this stroller because one seat is located directly in front of the other, making it easy to get around tight corners, pass through doors, and use different means of transport with ease.
Who it's ideal for?
If you have twins, this stroller is perfect. However, it also works well for parents who have an infant and a toddler. Each seat can accommodate up to 40 pounds. You can recline both chairs to place your child comfortably. However, the rear seat can get laid down entirely flat to create room for an infant bassinet. Both positions also have individual canopies and child trays. There's also a parent's tray with a covered compartment and a storage basket at the bottom. As a plus, this crib meets the size requirements set by Disney.
Pros
Both seats can recline backward
You can attach two car seats for infants
One-hand fold
Positions are fixed and nicely spaced
Have footrests for each seat
Has front-wheel suspension and swivel wheel locks
Cons
Becomes harder to push with two children inside
CHECK PRICE ON AMAZON
Wrap-up
Going to Disney is a vacation that everyone should get to experience. I love amusement parks. Lots of fun things to do there for everyone. Children can be constantly amazed. By having e.g. the Chicco Liteway Stroller they can better keep up with the day's events. Everyone claims to have a lightweight option, but this brand stands out. It's a little over 17 pounds making it easy to carry around when you're not using it. I am a big fan of minimalism and this one satisfies most of my wishes (and my daughter's).
Last update on 2021-08-02 / Affiliate links / Images from Amazon Product Advertising API