Pack and plays form a large part of your baby's early years. Used from birth through to the toddler years, they are used as a portable and easy place for baby's to sleep and play. But, do pack and plays expire?
In my article today I'm going to elaborate on the topic of whether or not these essential baby items expire. I will also be giving you some useful ideas on what to do with your old pack-and-play. 
Do Pack and Plays Expire? 
Pack and plays don't expire. Many parents wonder if it's safe to use the pack and play with their firstborn for their second and thirdborn babies. 
Or, do pack and plays and cribs expire the way car seats or car seat bases do?
As it turns out, pack and plays can be reused if the safety requirements of the components are still being met. If it has no broken parts, it can easily be reused for sleeping or playing!
Answer the following questions when you're considering re-using your pack and play:
Is it still stable? Ensure it isn't wobbly?
If the model you have has locks or latches, are these safe and working?
Are all the components sturdy and secure?
While manufacturers of the top pack and play products don't officially advocate a particular expiration date, they do advise parents to ensure safety requirements are still being met. 
Is it Safe to Use an Old Pack and Play?
Using an old pack-and-play is still safe, provided safety measures are being met. The important point is to distinguish the difference between an "old" unit and a "previously used" one. 
Old might mean the safety standards might be outdated. "Previously used" could simply mean that the unit has been used, but still well within its safety requirement. A unit that's two or three years old is technically not "old."
Ideally, you don't want to use a pack-and-play that's very old because safety requirements are improved and updated every few years. Remember that components can get old, become weak or crack. 
Before using a pack play that you've been gifted, perform a proper safety check to ensure all the general safety standards have been met. 
Pediatricians advise that you can easily use your playpen for your second baby if the safety criteria are being met. 
What Can I Do With an Old Pack n Play?
The short answer here is REPURPOSE. As a new parent, you'll no doubt be acutely aware of the cost of baby gear. The thought of throwing your old playpen away after it's no longer needed might sound like a waste of good money especially if the product is still in good condition.
Fortunately, I have a few good ideas for you to repurpose your old playpen!
Ball pit: Buy a few large bags of colored balls. Add them to the pack and play and your little one will have hours of entertainment. It will also keep your baby busy while you do other things. Alternatively, you could just add toys to keep your little one occupied. 
Fort: If your pack and play is still strong, simply turn it on its side, cover it with a light fabric like an old sheet. Add pillows, light blankets and toys and your little one will have a fort to play in during the day. 
Play matt: The mattress in your playpen can be used as a playmat for your little one. You can recover the mattress with a bright sheet of fabric and use it anywhere. 
Pet bed: Add a sheet of mesh to one side of the playpen and add your pet's favorite blankets or mattress and you have a warm and cozy bed for your pet. 
Playpen at family: Another idea for your pack and play is to keep it at the relative you visit the most. That way your little one will have a safe and fun place to play in when visiting grandma's house. That way you know all of grandma's ornaments will be safe from inquisitive fingers!
Daybed: By turning your pack and play upside down, and adding a few accessories, you can turn it into a fun napping spot for your little one. 
Have a look at how one dad turns his pack and play into a daybed for his little one to use as a napping station! 
When It's Time to Replace Your Pack and Play 
Essentially the only real-time to replace the pack and play is when your baby outgrows it or it's no longer safe to use it. While most pack and plays can be used for different babies, it's important to continuously check the unit for safety requirements. 
Check for cracks and loose components. Some manufacturers have a date of manufacture printed on the underside. Here's an example from Graco: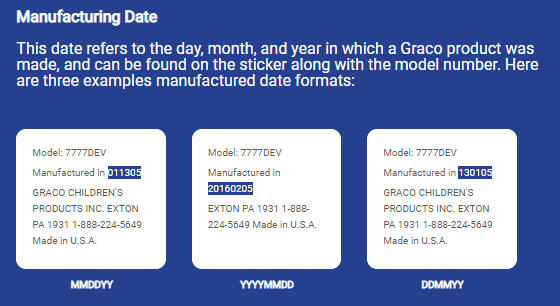 That will give you an indication of the model's age. Depending on the age, it might not be possible to get replacement parts. 
When a Baby Outgrows the Pack And Play
As much as your little one enjoys their pack and play, at some point they will outgrow sleeping in it. The next step is to find a safe and sturdy toddler bed. 
An option that is quite popular among parents of toddlers is the Dream On Me Classic Design Toddler Bed. Since this bed is designed to be low on the floor and has two safety rails for safety, it's the perfect option as a transition bed. 
If There Are Parts That Are Broken
Some pack-and-play manufacturers, like Graco, have replacement parts for sale. The age of the unit might be a factor here and if your pack and play is too old, the better option would be to buy a new one for your new baby. 
I do suggest that despite your pack and play being strong enough for baby number two, you still replace the mattress. Consult the manufacturer to get the right size to ensure a perfect and safe fit. That way you'll ensure your new baby has a firm and strong mattress. Always ensure that you thoroughly check your pack and play's stability before reuse. 
When It Doesn't Meet Safety Requirements
When your pack and play no longer meets the safety requirements issued by the manufacturer, it will be time to upgrade or replace it. Some of the safety standards you should consider include the following:
The playpen sides should be a minimum of 20" high. This should be from the floor to the top of the playpen. 
Any mesh sides shouldn't have holes bigger than ¼ " big to prevent little fingers from getting caught in them. The mesh should be firm and secure with no tears.
Wooden playpens shouldn't have slats bigger than ⅜ " to avoid little arms or legs getting stuck. 
Plastic components shouldn't be cracked or weak. If you have your doubts about any of the components, check with the manufacturers for suitable replacement parts. 
Mattress should be at least 1" thick and clean.
Hinges, latches and locks should be strong, secure and working. 
Legs must be strong, sturdy and offer maximum support. The playpen shouldn't be wobbly or move around when your little one is playing inside.
Ensure that there is sufficient padding on tops of the rails to ensure no injury to the baby.
If the playpen has a bassinet, ensure it's not torn and can still safely hold your baby.
FAQ
How Long Can A Baby Use a Pack and Play?
Between 2 and 3 years. Most babies can comfortably continue playing and sleeping in their pack and play until they're about 3 years old. This equates to a height of 35 inches and a weight of 30 pounds. 
But, each baby is different. So, you'll have to just keep an eye on how your little one plays and reacts in the playpen. If they're trying to get out of it, or sticking their arms, legs or head through open slats, it's time to move out of the pack and play.
Final Thoughts 
With so many baby items to buy, you might consider it a wonderful gesture if someone gifts you a used Pack-'N-Play. If the unit meets all the safety requirements set out by the manufacturer, and you've personally inspected the unit as I've detailed in my article, there's no need why you can't use it! 
Pack and plays are a wonderful place to set up as a play area for little ones to remain occupied while mom or dad gets some other things done. Ensure your pack-and-play meets the requirements, and you'll be able to keep your bundle of joy entertained for hours!