Taking your baby outdoors can be frustrating if they refuse to wear a hat, or continuously take it off. Spending the entire time outdoors can turn into a "put on-take off" battle between you and your toddler. It's a battle I had with my little daughter until I learned a few easy steps. Today I'll share these easy steps on how to get your baby to wear a hat!
Hats are like shoes. Some babies and toddlers take to wearing them without any fuss. But others pull a hat off faster than you can put it on! My daughter used to be like that before I implemented some of the techniques outlined in this article. The boy in the image next to my daughter apparently still has some room for improvement.
Here are my seven top go-to tips to make the hat-wearing process for your baby or toddler a little bit easier. Use these tips in the right situation depending on the age or season. If one doesn't work so well, move on to try out another on my list below. Make sure you read my best tip, too which works most of the time.
1. Start Putting Hats on Your Baby or Toddler Early
Babies who wear headbands, beanies, or hats from a very young age are less likely to pull them off. Start putting hats or beanies on your little one as early as possible. Be sure to use light hats if your baby is born in the summer so that it's not heavy on their heads.
Teaching your baby to wear hats will provide you with the answer to the question, "how to get a toddler to wear a hat" because your baby will already be used to it!
2. Be Consistent With Hats for Your Baby or Toddler
Don't give up on the hat challenge just because your little one is resistant. Teach your little one that wearing a hat is not negotiable for going or playing outdoors. Every time they take it off, put it back on. The rule should always be "no hat, no play."
It might seem harsh to put your foot down with your little one when they're so young, but don't forget you're doing it to protect delicate little skins!
3. Choose Different Hat Styles for Every Season for Your Baby or Toddler
Your baby or toddler might have a favorite hat, but their comfortable hat might not be the best option all year round! It's important to consider different options for different seasons. Consider the area you live in and what the weather changes are like during the different seasons of the year. Let's have a look at a few options to consider.
Sun Hats for Babies and Toddlers for Summer
Choosing the right type of hat style for your baby or toddler in the summer is as crucial as sunscreen and baby oil. Baby and toddler skin is sensitive and can burn in much less time than it would take your skin to feel the burn. Invest in different styles and shapes, the wider, the better.
One of the fun options to consider for little girls is the RuffleButts range, made with light colors which don't attract harmful UV rays. Light colors will also complement any little outfit.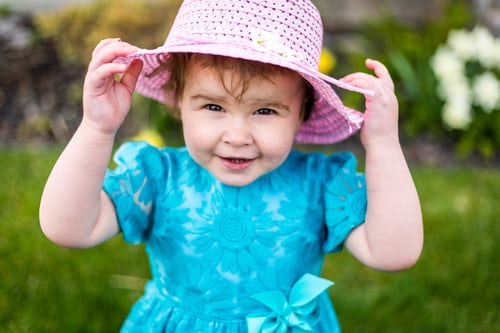 Beanies for Babies and Toddlers for Winter
Winter hats can be fun and you can get creative with them! Fun designs make winter hats cozy, as well as functional. Winter hats can have woolen strings, little ears on animal designs with fur and can easily be bought to match winter boots, scarves and gloves. Some of the most fun options include the cute designs from Peak 2 Peak.
It's also helpful to get a few options for the little one to wear on days when their favorite hat is in the wash. Beanies are also popular options with both boys and girls and can be plain, decorated or lined like the stylish Aleppo Fleece-lined baby beanies.
Caps for Babies and Toddlers for Winter
For babies and toddlers who aren't particularly keen on flap hats or beanies, there's the John Deere Toddler Winter Cap. These stylish little caps are not only lined with soft, fuzzy fleece but also have velcro straps to allow a snug fit. These cute caps are great options for babies and toddlers living in cooler temperatures.
Flap Hats for Babies and Toddlers for Fall
An ideal hat for babies and toddlers to use is a flap hat. A flap hat has material on the sides and helps protect little heads and necks from the sun on warmer days and the wind on cooler days. One of the most popular baby flap hat brands has to be Flap Happy which uses products made of recycled eco-friendly quick-dry, breathable fabrics.
An option to consider is making a few sun hats using old clothes! Learn how by watching this short clip!
4. The Trick is To Make Wearing Hats Fun for Your Baby or Toddler
Another effective tip is to make hat-wearing fun. Make them laugh by the actions you do with your hat. Put it on backward, inside out, or upside down. Put their hat on your head and your hat on their head. Laugh and pull faces while doing it.
Hat time shouldn't feel like a punishment. Teach them that putting the hat on means they're going for some fun playtime outside or a walk to the park.
5. Always Make Sure Your Baby or Toddler's Hat is Comfortable
Often the reason for a little one not wanting to wear hats or beanies is a simple fact – it's uncomfortable. The trick here is to measure your little one's head before you go hat shopping. Test the elastics and straps.
Hats that are too big will block their view of the world and hats that are too small will be uncomfortable and tight.
6. Let Your Toddler or Baby Pick a Hat
Allowing your toddler to choose their hat gives them a little control over the situation. They might be more inclined to agree to the process if you allow this. This isn't the time to worry about the pink fluffy hat not matching the blue sundress! The goal here is to get a hat that will stay on for the duration of the outside activity.
7. Wear Hats Too So You Can Be a Good Role Model
Babies and toddlers are good at mimicking everything they see. Wear a hat every time you go outside and make a point of putting it on in front of your little one. Let them see you do it and enjoy it! Encourage them to copy you. This works for me in 99% of the cases. I have a hat very similar to this below. By the way, it's not me in the picture! 🙂
You could even ask other family members like a big brother to show the baby they also wear hats and that it's fun to wear them.
Final Thoughts
Getting your baby or toddler used to wearing hats doesn't have to be a stressful situation. Follow the tips I've mentioned and buy a variety of hats if possible. Choose hats that are age-appropriate and provide your little one with comfort.
Encourage your little one to touch the hats and play with them and encourage dress-up where the older siblings are involved to create more fun and excitement. Make hat time fun by not giving up!