Once you notice your child's curiosity about what you do in the kitchen, you need a toy to appease their curiosity. This Melissa and Doug kitchen review will tell you all there is to know about getting a toy kitchen set. Perhaps you've heard of the Wooden Chef's Pretend Play Toy Kitchen; however by highlighting some other products for you in this review, I will help you make an informed decision on how to proceed.
Our daughter is the type who has a hard time getting out of the kitchen (see the example picture below). Maybe we contribute to that as we prepare nearly everything for her at home, so we use the kitchen probably more often than many other parents. We're about to buy a kitchen set just for her so she can fully appreciate the kitchen experience. This review will contain all the research I've done and since my sister's daughter has this set, it also reflects my personal experience.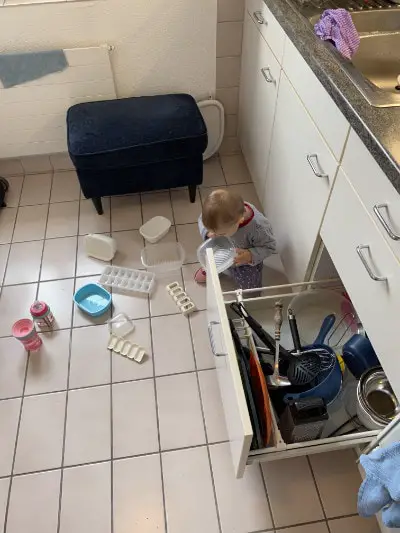 What this kitchen is and why you should consider it
The Melissa and Doug Kitchen set creates an environment that children can use to discover culinary wonders. Literally that's the case. What's more, you actually have a lot less to worry about the risks that come with kids being in an actual kitchen. These risks would be cuts, burns, spills, and other similar accidents that could happen when you have inexperienced hands in a kitchen.
Factors to consider before buying a toy kitchen set
The material
Parents these days are very conscious of the components their children's toys contain. Most toy kitchen kits tend to come as either wooden or plastic variants. Some come as a mix of both materials. Find a material you're okay with to help guide your purchase.
Portability
Would you like a toy kitchen that you can take with you whenever you visit friends or relatives? If so, then a portable model is what you need. As such, they would have to be smaller and lighter options to enable you to pack them up and go whenever necessary. If they're not smaller, then they should be easier to set up and take apart for easy transportation.
Weight
Lightweight items are always better when dealing with children's toys. That's because you're unlikely to come across injuries caused by fallen objects. Lightweight options also allow your child to move around with their toys as they please, without your assistance. In general, plastic models tend to be lighter than wooden ones.
Size
How much space your toy kitchen takes up is worth considering before you make a purchase. That's because you'll need adequate room to assemble it. Also, your child should have ample space to enjoy the various features and get creative.
The style
Toymakers are innovative enough to come up with different designs to suit more varied tastes. Therefore you'll come across different toy kitchen set styles. These include modern, retro, and even futuristic layouts. With the Melissa and Doug kitchen set, your child will have a modernized kitchen layout with a selection of three different colors. Here's a demonstration video below on how the kitchen set by Melissa and Doug looks like.
Assembly
Due to their size, you need to assemble most toy kitchens before using them. Therefore the level of the assembly will determine whether you should consider buying it or not. For younger children, options that are easy to assemble mean they can do it themselves. However, for older toddlers, a more complex kit that you can help them with would be the ideal choice.
Added accessories
With a toy kitchen, your child will need accessories such as the cooking pots and pans, ingredients, and dishes to serve up their meals. Getting a toy kitchen with all these included means you don't have to make additional purchases to complete the set. It also makes it more affordable.
Battery-powered
Would you like a play kitchen that mimics a real kitchen? Then battery-powered options are the way to go. These will come with lights and sounds to immerse your child in their play session. These are best for younger toddlers to help them build their imagination. The options without batteries also come with fun additions. These include levers, turning dials, and pressable buttons to create a more realistic experience.
Melissa & Doug Wooden Chef's Pretend Play Toy Kitchen
Product information
Dimensions: 43.25×15.5×39 inches

Weight: 31 pounds

Material: Wood

Color: Cloud, Pink, Charcoal,
Why it's a good option
When it comes to kitchen toys, this set by Melissa and Doug may be what you need. The package includes a refrigerator and a freezer with an innovative ice maker, a stovetop, an oven, and a microwave. It also has a sink, shelves, and a grocery checklist. It comes with detailed instructions to help you with its construction. You can set it up in the middle of the room or against the wall depending on the available space. Children from as young as three years can enjoy playing with this toy kitchen.
Pros
High enough to simulate a child's kitchen

Comes with assembly instructions

Has a sturdy build

Comes with a variety of toy kitchen equipment
Amazing that the ice maker can dispense toy ice cubes

Big enough to be used by multiple children

Doesn't need batteries to operate any moving parts
Cons
Comes in too many pieces, making assembly difficult

You need to buy accessories separately
CHECK PRICE ON AMAZON
Accessories for the kitchen set
Melissa & Doug Let's Play House, Stainless Steel Pots & Pans Play Set
To go along with your Melissa and Doug kitchen set, you can also get the Stainless Steel Pots & Pans Play Set. It offers eight pieces, which include two wooden spoons, two pans, a pot with a lid, and a colander. The cooking pans, pots, cover, and strainer are hand-polished steel equipment. They're small enough for children, and also suitable for use on the Wooden Chef's Pretend Play Toy Kitchen's surfaces. They're stainless steel toys so you might think they're heavy but actually they're lightweight enough for children to handle.
CHECK PRICE ON AMAZON
Melissa & Doug Deluxe Wooden Kitchen Accessory Set
For parents who prefer wooden accessories, Melissa and Doug have those as well. The Deluxe Wooden Kitchen Accessory Set comes with an oven mitt, a spoon, slotted spatula, frying pan, stockpot, and saucepan with their lids. The package is also portable, weighing only 2.75 pounds. Your child can set up their kitchen anywhere since the box can also double as a stove.
CHECK PRICE ON AMAZON
Melissa & Doug Brew & Serve Wooden Coffee Maker Set
You can also include the Brew & Serve Wooden Coffee Maker Set to you kitchen set. It's a realistic wooden coffee maker that comes with coffee pods, creamer, and even an ice cube to create cold drinks. Other accessories that come with it include a sugar sachet, a spoon, two cups, and a menu card. Sturdy wood creates all accessories, in line with the majority of Melissa and Doug products.
CHECK PRICE ON AMAZON
Alternatives and What They Offer
Step2 Fun with Friends Kitchen | Large Plastic Play Kitchen
If you would like a different option to the Melissa and Doug's, have a look at this one. The Step2 Fun with Friends Kitchen is yet another big kitchen set with a height of nearly 41 inches. It's almost 36 inches wide and comes with plenty of accessories to keep your child busy. They can pretend to cook and clean in their kitchen or create a restaurant environment with the toy phone included. Some of the perks you get with this model include:
Realistic lights and sounds

A coffee machine with coffee pods

Life-like electronic stovetop burner

Two-person place settings including spoons, forks, knives, bowls, plates, cups, and glasses

Condiment bottles, storage bins, a pot, a pan, a takeaway cup with two sleeves and lids
CHECK PRICE ON AMAZON
CUTE STONE Little Kitchen Playset
Another option for your child is the CUTE STONE Little Kitchen Playset. Like the Step2 Fun set, this is also made entirely of plastic. It's even more affordable but a much smaller size than the other two models in this review. Its unique features include:
Lightweight, weighing 5.9 pounds when assembled

Has a Simulation Spray to release steam during cooking

Comes with an automatic water system for the sink

Has a six-step installation process

Comes with temperature-sensitive plates

The stove automatically lights up when you place a pan or pot on it

The package includes food items, utensils, and desserts
CHECK PRICE ON AMAZON
Conclusion
A kitchen set is a great way to get your child involved in how cooking works. It helps them become creative as well as respect the activities that take place in the kitchen area. The Melissa and Doug Wooden Chef's Pretend Play Toy Kitchen and its accessories are another great example of toys your child can use to build skills she can use later in life. It enhances their creativity as they think up different recipes. They continue to hone their motor skills as they maneuver around their toy kitchen area. You'll also notice that they become more critical thinkers based on the challenges they encounter or create during their play sessions. Additionally, your child's vocabulary will slowly grow as they create experiences for themselves or use the kitchen set with their peers.
I'm a big fan of Melissa and Doug's products. They're innovative, safe, and even educational toys worth having around for your little ones. To get a glimpse of some of their other top-rated products, you can check out my reviews on the best easels and the best toy parking garage. You'll find detailed information on other product ranges they have.
Last update on 2021-06-14 / Affiliate links / Images from Amazon Product Advertising API