It's time to plan your baby shower and you've been advised to put together a list of all the baby goodies you would like gifted. Putting together a baby registry is fun and easy. But what do you say in your baby registry greeting to family and friends or guests without seeming greedy?
Everybody who wants to give a gift actually likes to know what you want. They would prefer you tell them than they get something you'll toss into the back of the cupboard. This is why a baby registry list is a good idea. Adding a message is always a nice touch though and once you know what to say, it's simple. Find out what to say via my 5 samples!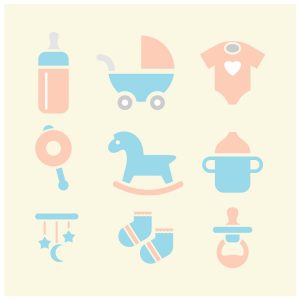 Where to List and Why A Good Baby Registry Greeting Helps
If you haven't already searched and found the places to list your baby registry, I've done the search for you. Here's a list of some places you can consider and why:
Amazon: Yes, believe it or not, but Amazon does have a baby registry option. Plus, you can add your message (a maximum of 500 words) which shows every time someone opens your registry list.
Target: This universal registry offers up to 1800 locations for stores and a range of popular baby brands. You can personalize your registry page (great for putting your baby registry greeting on).
Walmart: This is another popular pick for baby registries. With over 4500 stores to pick from and offering a wide range of popular baby brands.
Babylist: This company makes it easy for you to compile your baby registry with suggestions and recommendations provided. You can add from any store including the ones already mentioned above.
What to Include in a Baby Registry Greeting Message
Find out first how many words you can include on your baby registry greeting message if you're inserting it into an online registry list. This will determine how much you can say. Of course, if you're adding your message to an email invite to your baby shower, then you'll have some flexibility.
You can include the following:
Details about the nursery: This could include the color and theme of the room.
Gender: If you want to share the gender of your baby, you can include this information. Or, if you're going gender-neutral then let the gifter know.
Preferences of gifts: You may only want to build your baby's library of books or prefer second-hand gifts. Perhaps you're eco-conscious so the gifts can be organic products.
Name of your baby: If you want to include the name of your baby in the message it will help to personalize some gift options. And, if you're having twins or triplets it will help to let your friends and family know when they decide on a suitable gift.
Thank you: Acknowledge how grateful you are for your family and friends visiting your baby registry. Thanking them for their love and support goes a long way to showing your appreciation. You could also say you're excited about welcoming and meeting your new baby soon.
Let's Get Started – 5 Baby Registry Greeting Samples
Here are 5 samples to include in the baby registry greeting. There are also examples if you want to send out email invites to a baby shower. Note that in case of email invites, you might want to link to the online baby registry site you chose.
3 Baby Registry Greeting Samples for Family and Friends
Sample 1
Welcome to our baby registry! Our baby girl, Sarah, can't wait to meet all our friends and family! Her nursery is cheerful and bright, with hints of pink, yellow and purple. We would love to grow her library with all the favorite children' classics plus some other books. Thank you for showing so much love to our new family member, Sarah, already. Love Emma and Tom
Sample 2
Thank you for visiting our baby registry. We are so grateful for your love and support and can't wait to introduce you to our baby boy. If you're wondering: his room is blue and gray and we've chosen a nautical theme. We're so excited to share our baby journey with you! Love Emma and Tom
Sample 3 for Sending out Email Invites
We are so excited to be sharing our special day with friends and family at our baby shower. Your presence means the world to us as well as your support and love. That's all we would ask of you. However, if you are thinking of bringing a gift to celebrate the arrival of our baby girl, then please visit our baby registry listed with Babylist.
2 Baby Registry Samples for Guests
Sample 4
We are so excited about welcoming our twins to the world. Have fun with our list of ideas on our baby registry. We want to keep it simple so it's gender-neutral and minimalistic. We're going to need to save some space! Love Emma and Tom
Sample 5 for Sending out Email Invites
If you wish to join in our celebration of baby Victoria's pending arrival with a gift, we have a baby registry listed with the following stores: Amazon, Babylist and Babies R Us. You can view these lists online.
How to Announce Your Baby Registry
Etiquette requires us to not announce to the world that you have a baby registry via Facebook (so tacky!). But you can include it in your baby shower invites, either by email or through the mail or hand-delivered. These invites include a space for you to indicate your registry.
Make sure close family members know, such as your mom, mother-in-law or sister. This way they can discreetly tell your friends and other families when asked.
Of course, if someone asks you directly you can tell them. But, also be prepared that many people may buy without asking you and not even go to your baby registry.
Final Thoughts
The best way to write a baby registry greeting is to keep it real with a personal touch. Your genuine appreciation will reflect how grateful you are for the interest and support your relatives and friends are showing. In return, you'll receive a gift full of love.
Just like with messages that are short, I consider myself to be a minimalist also regarding baby registry items. If you need some ideas, I've put together a minimalist baby registry that might be useful when you're brainstorming for ideas. And if you want to optimize your baby registry creation process, I have some hacks for you.