Based on my personal experience of nearly 3 years as a dad, having more baby sleeping bags is better than only having one. Listing all the things your little one needs can be quite exhausting. And what about how many sleeping bags do I need?
In this article, I'll give you (at some points even surprising) insights into all the aspects of answering this question. Having this info on hand will save you the struggle of finding out the hard way!
How Many Baby Sleeping Bags Do I Need? 
The absolute minimum amount of baby sleeping bags should be two. 
Let me tell you why. My little one enjoys a little water from her sippy cup every time she's preparing for bed. Since she's still learning to use her sippy cup, she often spills a few drops of water on her sleeping bag. Other days it's a little more than a few drops and we need to change the sleeping bag. 
The daytime is no different. She likes to nap in her sleeping bag and when she wakes she has her tea and cookies and it seldom happens that she eats without messing. 
My point here is, having at least two sleeping bags allows for one to be used and one to be drying on the washing line! You could even get three if you're afraid your little one will spill a lot. 
Why You Need a Sleeping Bag for a Baby 
Sleeping bags keep your baby warm and cozy. Parents are always concerned that their little one will be too cold at night. But at the same time, they worry about putting too many blankets on top of the baby. 
A baby sleeping bag takes care of this problem in one simple step. Your baby will be able to move around and there's no chance of them kicking the sleeping bag off as they might do with a blanket. Having a sleeping bag in the crib rather than a bunch of blankets allow your baby to get the necessary ventilation throughout the night. 
Sleeveless baby sleeping bags seem to be the optimal choice because they provide better ventilation when your baby is sleeping. 
Number of Sleeping Bags Needed for a Newborn
Newborn babies will easily benefit from two or three sleeping bags. You just need to ensure that the sleeping bag you choose is suitable for a newborn. Having an extra sleeping bag or two will ensure you have one handy if you need one in the middle of the night or after a feeding spill. 
One of the most popular options for newborns is the Swaddler Blanket Stroller Wrap. This swaddle blanket has 4 zippers that easily adjust to suit your baby's needs. Not only does it keep your baby's whole body warm at night, but it's also snug enough to keep them feeling secure. 
Still not convinced? Watch this clip to see the many benefits of using a sleeping bag for your baby!
How Many Baby Sleeping Bags Do You Need for a Family when Camping? 
Simply put, you'll need two sleeping bags for your child for camping. If your family enjoys camping as much as mine does, then there's no doubt that you will need a sleeping bag for camping. The reason I recommend two is because you usually don't have anywhere to do laundry when you're camping. So, if you have two there's always a clean one on hand.
At home, we have an extra, warmer sleeping bag that we leave in our stroller (see picture below). My daughter uses it when we spend evenings outside. It helps her sleep and keeps her snug and cozy!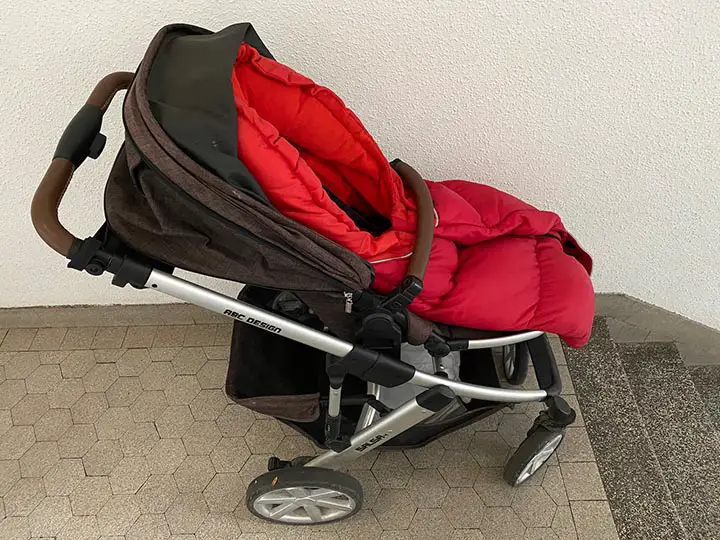 The Baby Sleeping Bag Tog and Which One Should You Consider 
Tog generally refers to thermal resistance in your little one's sleeping bag. If the bag has a higher tog, the sleeping bag will be warmer. So ideally, you'd want a bag with a higher tog for the winter months. 
One of my favorites in this category is the Baby Deedee Sleep Nest. This innovative sleeping bag is ideal for use at home or while you're traveling as it allows your little one to be comfortable in any environment. It has a tog rating of 3.5 and provides your little one with all the warmth they'll need to stay comfortable. 
Does a Baby Need a Blanket with a Sleeping Bag? How Many Blankets? 
If your baby is still cold despite being in the sleeping bag, one, light additional blanket is all that's needed. The sleeping bag will provide your little one with the warmth and comfort they need. If you're going to add a blanket, ensure the blanket doesn't cover the baby's head and can be tucked under the baby. This will avoid your little one from getting tangled in the blanket. Make sure your baby is the right age to sleep with an additional blanket. It's recommended that you only use blankets when your baby reaches 12 months old. 
Is a Sleeping Bag Safe for a Baby? 
Baby sleeping bags are safe. The sleeping bags can help eliminate the risk of sudden infant death syndrome. The best product to use is the Tommee Tippee Grobag. One of the leading causes of SIDS is the build-up of carbon dioxide in the baby's blood. This happens when babies sleep face down and end up rebreathing exhaled carbon dioxide. Letting your baby sleep in a sleeping bag will keep them from rolling over onto their tummies.
A sleeping bag will also keep the little one's arms and legs from getting stuck in the crib's rails. Infant sleeping bags are designed in such a way that the infant won't slip inside and struggle to breathe or inhale stale carbon dioxide.
Types of Baby Sleeping Bags
There are several different types of sleeping bags available for your little one. Deciding which one will be most suited to your baby depends on when you want to use it. Sleeping bags for sleeping vary slightly from the ones you might use when you take your baby traveling. 
You might also consider getting one or two different types of sleeping bags. A thicker, warmer bag for colder nights and a cooler, sleeveless type for warmer days when your baby might need extra ventilation. Let's have a look at some of the different types of sleeping bags available for your little one. 
Sleeping Sacks 
A sleeping sack is a mini sleeping bag and resembles a wearable blanket. A popular option is the LEMONDA Winter Baby Sleeping bag. This sleeping bag is waterproof and has an inner cloth made of fleece. It's also the ideal size for traveling so it makes it best for camping, backpacking and any other outdoor activities. This model is ideal for strollers and can be attached to the stroller with adjustable straps!
Sleeved Sleeping Bags 
As the name implies, sleeved sleeping bags have long sleeves. The sleeves have less padding than the rest of the sleeping bag which makes it easier for your little one to move around. If you're looking for this type of sleeping bag, you might want to consider the Morrison Outdoors Baby Sleeping Bag. These models are versatile and comfortably fit little ones from 6 to 24 months. It has a snug secure collar that will keep your baby from slipping inside. 
Sleeveless Sleeping Bag 
Sleeveless sleeping bags are ideally designed for use when your baby goes to bed. The absence of any sleeves ensures there's enough natural ventilation. This will also regulate your baby's body temperature. The Hudson's Sleeveless Wearable sleeping bag is a 100% cotton option that's soft and comfortable on your baby's skin. It's machine washable, has a zipper closure, and can easily be cleaned by popping it in the washing machine!
Final Thoughts
Baby sleeping bags will not only keep your little one warm but safe and snug as well. Sleeping bags are ideal for use at home, camping, and even for use in strollers. A wide variety of shapes and sizes means you will find the perfect sleeping bag for every occasion. 
On average you should have two sleeping bags of different weights and thicknesses. This will ensure your baby is warm no matter what the temperature is!
In case you might be wondering about other ways to keep your baby warm, you might be wondering about how many swaddles you need, a topic I covered in a separate article.
Last update on 2023-08-31 / Affiliate links / Images from Amazon Product Advertising API