A car seat is undoubtedly one of the most important purchases you'll ever make as a parent. It's important that you get it right, the first time. The market is flooded with brands that claim their product is the best which makes picking the right brand a difficult endeavor. I'll be comparing two of the most popular car seat brands to see which one is the better option. Which brands? Evenflo vs Graco, of course.
How to Choose the Best Car Seat
In the battle of Evenflo vs Graco picking the right car seat for your needs can be challenging. This is especially true if you, like me, are a first-time father who has no clue where to start his search. Thankfully, I've picked up a few tips along the way which I'm sharing with you to make your search a little easier.
Here's what to keep in mind when searching for the best car seat to protect your bundle of joy.
Things to Look for in a Car Seat
A car seat needs to tick all kinds of boxes to serve your little one well. Firstly, determine how much you're willing to spend and take into account all of the necessary safety features such a seat should possess. Secondly, consider the amount of time your child will be spending in the seat. You want your child to be as comfortable as possible so pay careful attention to the materials used in the seat's construction. Thirdly, think about your child's current growth rate – is he or she a slow grower and will you get the most out of a single-stage car seat? Or is your child achieving their growth spurts like nobody's business, and needs a convertible car seat?
What are the Benefits of Car Seats?
No responsible father should dream of going without a car seat. Even if it's just for a quick trip to the convenience store. Car seats reduce the risk of injury or worse by a staggering 70%. In addition to its life-saving properties car seats are also beneficial because they provide your child with a safe space to sit or sleep while traveling. Finally, there is a range of car seats available that come in all sorts of shapes, sizes and colors.
Brand Matters
The brand behind the car seat is of the utmost importance. Always opt for a well-known brand, such as Graco or Evenflo, to ensure you are getting a product of the highest quality that meets the necessary safety standards. Both of these brands have earned their impressive reputations. Evenflo has been around since 1920 while Graco entered the market in 1942 – so it's safe to say these guys know a thing or two about manufacturing car seats.
Appreciated Extras
Now that you know the basics it's time to explore the extras. These features aren't technically essential but will make your life a whole lot easier. Keep your eyes peeled for car seats that have easy installation processes, those that have thoughtful features like built-in cupholders and brands that offer a range of color options to pick from.
My Top Picks
Product Reviews
Graco Extend2Fit Convertible Car Seat
The first Graco product on my list is the most popular: the Extend2Fit Convertible Car Seat. This convertible car seat grows with your child from infant to toddler. It features extensive safety features while still providing high levels of comfort.
Its maximum weight capacity means it will be able to keep up with your child's inevitable growth spurts. The seat features dual cup holders and is available in a variety of colors.
Who This Product is Ideal for
This car seat is ideal for rear-facing infants and for front-facing toddlers. It's a great option for parents who don't want to buy two separate car seats.
Why You Should Buy It
This car seat features a great deal of adjustability such as 10 headrest positions to choose from and a 6-position recline option. It also has an adjustable 5″ legroom extension panel. It's easy to install, use, clean and maintain.
Product Specifications
Dimensions: 19.2 x 25.2 x 22.1 inches
Weight: 24.14lbs
Materials: Metal, plastic and machine-washable fabric
Capacity: infants from 4lb to 50lb and toddlers from 22lb to 65lb
Color: Black with white, pink, gray or orange, gray with blue or a trio of grays
Pros
Easy installation
Adjustable
Multiple color options
Accommodates a growing child
Cons
No carrying handle
Takes a couple of minutes to strap the child in
Graco Slim Fit 3 in 1 Convertable Car Seat
Another Graco product that is worth mentioning is the Slim Fit 3 in 1 Convertable Car Seat. As the name suggests, this car seat boasts a slim design that is perfect for space-strapped vehicles. This versatile car seat will stick with you through all stages of your kid's life: infant, toddler and child.
It has rotating cup holders, an integrated storage compartment and an instant latch system. It's available in two stylish grayscale color options which the fashion-conscious father will appreciate.
Who This Product is Ideal for
This product is ideal for infants, toddlers and children. How's that for an all rounder?
Why You Should Buy It
It has a 4-position recline feature, a 5-point harness system and has passed rigorous crash tests. Spill concerns will become a thing of the past as the seat is completely washable.
Product Specifications
Dimensions: 26.81″ x 19.88″ x 22.36″
Weight: 19.69lbs
Materials: Steel, polyester and machine-washable fabric
Weight Capacity: Infants from 5lbs to 40lbs, toddlers from 22lbs to 65lbs and children from 30lbs to 100lbs
Color options: Dark gray or light gray
Pros
Adjustable
Innovative design
Focuses on comfort
Accommodates a growing child
Cons
Latch is tough to tighten
Safety sticker retains heat
Graco Affix Highback Booster Seat with Latch System
The last Graco product I'll be discussing is the Affix Highback Booster Seat with Latch System. This product features a one-hand front latch system which is ideal for multitasking parents and their independent offspring alike.
Integrated cup holders and hideaway storage compartments make this a great option for big kids who are always on the go. It's available in a striking red color.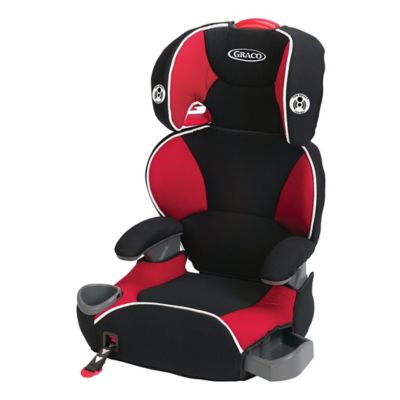 Who This Product is Ideal for
This product is designed with children in mind and can comfortably seat kids who weigh up to 100lbs.
Why You Should Buy It
This car seat is fully adjustable and is easy enough to operate that your child can buckle up by themself. It also features energy-absorbing foam for enhanced impact resistance as well as temperature control.
Product Specifications
Dimensions: 15.5″ x 16.5″ x 26.75″
Weight: 9.8lbs
Materials: Metal, plastic and machine-washable fabric
Weight Capacity: 40lbs to 100lbs
Color options: Red
Pros
Easy to use
Lightweight
Adjustable
Converts to a backless booster
Cons
Headrest doesn't lock well
Difficult to install
CHECK PRICE ON AMAZON
Evenflo Tribute LX Converter Car Seat
Now it's on to Evenflo. I'll be introducing you to their most popular car seat: the Tribute LX Converter Car Seat. This fashionable car seat will securely hold your child from infant through to toddler.
A detachable side-strap cup holder is included in its design and the materials used in its construction are soft & supple. It's available in an abundance of color options that will please you and stimulate your child.

Who This Product is Ideal for
This product is designed with infants and small toddlers in mind & every element of its design speaks to this fact.
Why You Should Buy It
If you want a car seat that looks good, this is your best option. It has four shoulder strap positions and an easy-to-operate harness system & buckle release system.
Product Specifications
Dimensions: 18.5″ x 22″ x 25.5″
Weight: 9.29lbs
Materials: Metal, plastic and polyester
Weight Capacity: Infants from 5lbs to 40lbs and toddlers from 22lbs to 40lbs
Color options: Black with gray, red, light blue, bright blue, pale pink, hot pink or pink floral
Pros
Inexpensive
Lightweight
Variety of color options
Cons
Cushioning is thin
Fabric is cumbersome to clean
Difficult to install
FAQs
When is the right time to buy a car seat?
You should have your car seat prepped and ready to go before your baby is even born. Thereafter you need to purchase a car seat that caters to your growing child.
What are the stages of car seats?
There are four stages of car seats. Rear-facing for infants, front-facing for children aged three to five, booster seats for children five years up to as old as 12 and the regular back seat of your car thereafter.
How can I tell if my child is seated properly?
First, check that the harness is tight enough – it should have no slack. Second, make sure that said harness and all straps are properly positioned as per your user manual. Third, ensure that your child is seated properly and that their head is properly supported & they are securely strapped in.
Conclusion
When we pit Evenflo vs Graco against one another, it's clear that one brand emerges victorious. That brand would be Graco. Not only does Graco offer more products but their product quality simply trumps Evenflos. Sure, their products may be more expensive but when it comes to your child's safety – no price is too high.
Last update on 2021-04-18 / Affiliate links / Images from Amazon Product Advertising API