One of the items on your "to get for baby" list is most definitely a high chair. Traditional high chairs can be expensive. Depending on the model you choose, they could also need a considerable amount of space to use as well as to store. This leads many parents to consider high chair alternatives.
Fortunately, the evolution in baby gear and furniture has seen the rise of many alternatives to the traditional high chair. These modern and convenient alternatives can attach to dining tables, strap or hook onto regular chairs or allow your little one to sit on the floor.
With my daughter we started out using a high chair from Peg Perego and believe it or not, at the age of two we slowly started putting her into a regular chair with special support under her. In this article, you can read about many other alternative solutions, too.
The five alternatives I'll be sharing with you today might be smaller and could in some instances be cost-effective. At the end of this post, you can find my ultimate cheap solution. Enjoy!
My Top Picks
The Kaboost Booster Seat is designed to elevate your toddler to the height of the dining table. Simply place the chair booster under the chair, slot the chair legs in place, and snap on. Essentially, your little one is being lifted by lifting the chair to a higher height. With this innovative gadget, you're simply making your own high-chair.
Specifically designed to increase the chair's stability, the rubberized feet can easily hold up to 300 lbs. Not only does it boost your little one's height but their self-esteem as well. It allows them to feel like everyone else at the dinner table!
It's also compact, lightweight and easily folds for storage or travel. The two height settings allow the unit to grow with your child.
Pros
Boosts toddlers morale by allowing them to sit at the table like everyone else
Easy to remove and adjust
Can be used for other members of the family like elders
Cons
Your child must be able to sit on a regular chair – not suitable for babies
A chair booster provides height, no safety harness for the chair. This could be risky for a little one who doesn't sit still.
View on Amazon
The nifty Nuby Easy Go Booster Seat is a compact, lightweight alternative to a bulky high chair. It easily fits onto any chair and an adjustable security strap keeps the booster seat securely in place.
It also has a removable high-density foam padding on the seat, providing extra comfort for your little one. It's also easy to clean since the water-resistant coated nylon fabric easily wipes clean. This booster seat can easily hold a child weighing up to 50 lbs(23 kg).
It's the ideal option for parents who travel often as the seat easily folds into a carry bag. There's also a pocket to use for easy storage and access.
Pros
Saves space because it can be added to an existing chair
Cost-effective, much cheaper than the average high chair
Can easily fit on most chairs and doesn't require much storage space
Cons
Not safe for babies to use as they lack straps and safety harness
Toddlers who wiggle around a lot might slip out of the seat
View on Amazon
The Hiccapop Travel Booster Seat easily pops open and conveniently folds up for easy travel. Its lightweight design includes a rear pocket for spoons and bibs to keep all your little one's small items safely in one place.
A gentle restraint system keeps your child snuggly in the seat and the buckles can easily be opened and closed using one hand.
Pros
Easily fits on most chairs
Designed for travel, easy to fold and carry around
Fits into a diaper bag
Cons
Made from fabric to accommodate travel, might wear out with everyday use
No harness to secure toddler, active children might wiggle out if it
View on Amazon
The Chicco Quickseat falls into the hook-on-seat category and can easily be added to most dining tables. By adding the seat to the dining table, your little one can easily engage and socialize with everyone at the table.
An easy-to-clean snap-on tray offers an eating surface slightly above your dining table, keeping any mess or spills off your table. The seat cover also easily snaps on and off for easy washing.
With its small frame, it's compact enough to fold and carry around for travel-friendly convenience. An added advantage is the 3-point harness that keeps your little one snug and secure in the seat. It's also available in three colors namely, graphite, isle, and poetic.
The only warning with this type of chair is to avoid glass or loose tabletops. Remember to remove your table cloth where you're going to attach the seat. This will ensure that it remains secure during use.
Pros
Easily to fold down and store in smaller spaces
Baby feels involved by being part of the family, encourages family engagement
Easy to clean, removable tray keeps any food spills off your table
Cons
Not suitable on all table tops
Installation must be thoroughly checked since there are no legs for added safety
View on Amazon
One of the more popular high chair alternatives has to be the PP Opount Standing Tower. Designed to be a child's kitchen friend, this little tower raises your toddler to counter or table height.
With an adjustable height varying between 10.7" – 18.5", this unit is suitable for toddlers from 18 months to 36 months. Accessories include screws, tools, protective nets and assembly takes about 30 minutes.
The standing tower's structure and material have been designed following child safety standards. Safe and durable, this unit comes in the shape of an elephant!
Pros
Towers are very versatile, can be used for eating and other activities
Adjustable and also grows with your toddler
Designed with bars to prevent falling or slipping off
Cons
Not suitable for children who can't stand alone
Can be bulky, especially in front of a counter or table
View on Amazon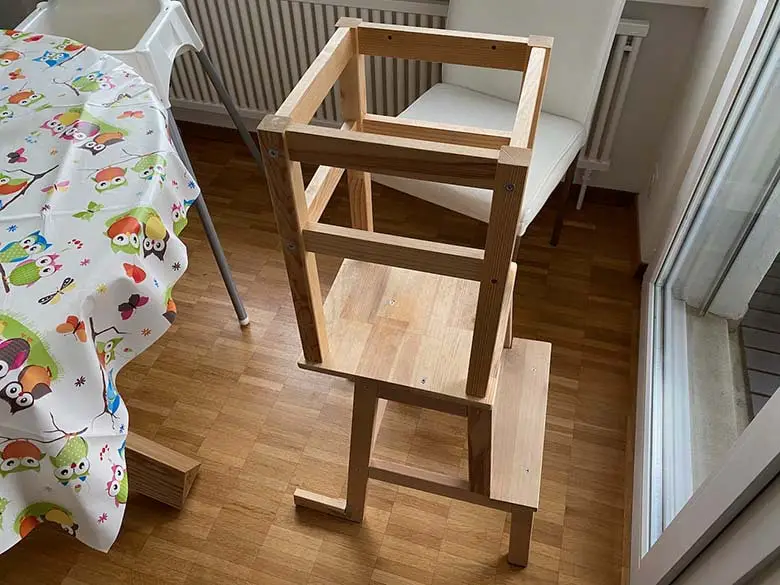 If you're fine with a simple design, you might want to get this one from IKEA – see this image I took below to see how it looks like.
What is the Best Alternative to High Chairs?
Parents working on a limited budget, or who have smaller dining or storage spaces might prefer a high chair alternative.
Let's consider some of these options:
Hook-on seat: Hook-on seats attach directly to the table where you're eating. Most of these types of seats have their own serving trays allowing for super easy clean-ups after every meal. Here's another article I wrote on some top products, comparing Phil and Teds Lobster vs Inglesina clip-on high chairs
Chair booster: Similar to the hook-on seat, the chair booster, e.g. from Graco or Chicco can be used at a regular kitchen or dining table. Your little one will be able to reach the table a lot easier because the chair itself is lifted by placing the chair into the booster.
Booster tower: Also referred to as toddler tower, this unit allows your toddler to stand up next to the table and move around in a small space.
Booster seat: Generally made from plastic, a booster seat easily straps onto a regular chair at the dining table. This option is perfect for babies who can eat their meals at the table provided they're the same height.
Cheap(est) alternative to a booster seat: I folded a big thick blanket and placed it on a regular chair so my daughter can sit higher. This could be the most cost-effective solution.
Folding high chair: Similar to a traditional high chair, a folding chair elevates your little one to the height needed for eating at a standard table. It puts your little one to be closer to your level, allowing for better interaction, feeding and socialization. A big advantage with this type of chair is that it can be folded up and stored behind a door or anywhere you have a narrow space.
What High Chair Alternative Should You Pick According to Age?
Before you rush out and buy a cheaper, space-saving alternative, it's important to consider the age of your little one. Some alternatives are more suited to babies while others are best for bigger toddlers.
Let me give you a break down of this:
Booster seats are better suited for older babies that can eat at the table.
Booster towers require toddlers to stand, so these aren't suited for babies
Smaller babies will be best suited in harness options where they have the required support
Take your little one's age, weight and the expected lifespan of the seat into consideration before making your final choice.
Are High Chair Alternatives Portable?
Most high chair alternatives involve connecting the unit to a standard dining table. This means if you're feeding your little one at a table that's standard height and thickness, the unit will be able to be connected to the table.
An alternative more suited to travel is the portable high chair, often referred to as the travel harness. Similar to a booster seat, a travel harness straps to a regular dining chair and is made of fabric as opposed to plastic.
Since they're easy to fold up and carry around, you could easily have one in your car or your diaper bag. This means you don't have to carry a baby and a heavy, awkward chair around at the same time.
Will The High Chair Alternative Take Up Too Much Space?
One of the concerns parents have when they're considering high chairs and their alternatives are the space they require. It's a known fact that high chairs take up a lot of space in your kitchen or dining area.
Booster chairs for, example, don't take up much space at the dining table as they can often be attached to a regular chair. They also don't take up excessive space when it comes to storage. Chair boosters that attach to the bottom of regular dining chairs also don't require much space at the table as the chair fits into it.
Folding high chairs use the space of a regular chair and for storage, they can simply be folded up and placed behind a door or in the pantry cupboard.
Toddler towers are very useful for several other activities. To see just how versatile they are, watch this short clip!
How Safe is The High Chair Alternative?
The good news is, high chair alternatives are safe to use! The trick is to use the chair type most appropriate to your little one's age, weight and development stage. Always check that the option you're considering is age-appropriate.
Use all the straps, harnesses and buckles exactly as instructed and never leave your little one unattended in any of these alternatives. A point to remember is that toddlers might not be secure in your regular dining chair if you're using a chair booster. Simply purchase additional straps to easily form a harness on your dining chair.
Cheapest alternative (to a booster seat)
One very cheap alternative is to fold a big thick blanket + pillow and place it on a regular chair. This way my daughter could sit higher, at a level that is suitable for eating at our normal dining table. This might be the most cost-effective solution. I'd use it when your toddler is a bit older, around 2.5 – 3 years. Watch out for your child's back so he or she is sitting in an upright position. This is a photo of my solution.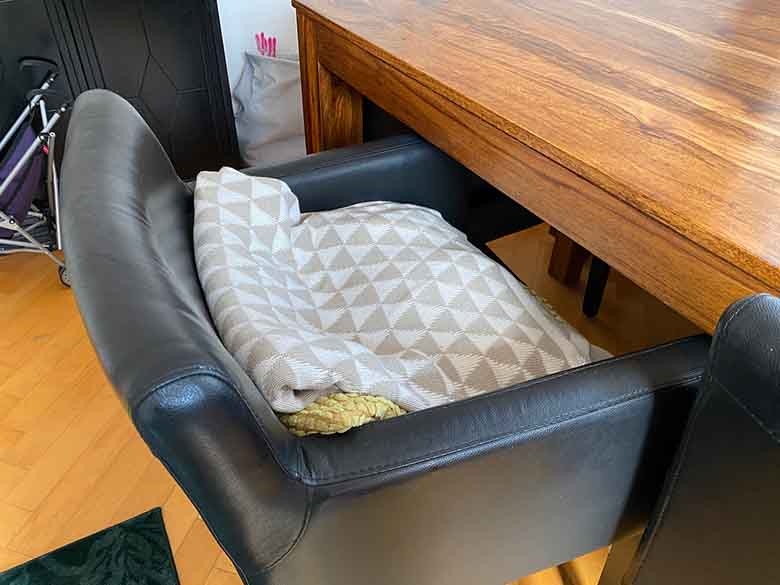 Final Thoughts
When it comes to baby gear, it isn't always necessary to stick with the traditional options. High chair alternatives provide solutions for parents with smaller dining areas or who might not have space to store a bulky high chair.
An added advantage of most high chair alternatives is their travel-friendliness. Since they're compact, lightweight and easy to carry, it makes them easy to fit into diaper bags and take with you wherever your little one goes.
As you can see from my article, there are several good high chair alternatives that not only save space but are more economical. Why not choose a high chair alternative that saves you money, space and makes feeding time a breeze? And what do you think about my solution?
Last update on 2022-12-04 / Affiliate links / Images from Amazon Product Advertising API