There's so much to think about when planning your baby's wardrobe. Should you only get rompers or onesies? Or, are separates better? You also need to know how often to change baby clothes so you can always have enough outfits on hand. So many factors influence how often you need to change your baby's clothes. 
How often you should change your baby's clothes every day depends on their age if they're spitting up a lot, and how often there's a leaky diaper or a blowout. For many parents, it's not unusual to be changing a baby's clothes between two to five times every day plus at nighttime.
How Often to Change Baby Clothes Depending on Age
Newborn
For the first six months of your baby's life, you can expect to be changing their clothing between one to five times a day. This depends on whether your newborn suffers from spit-ups or projectile vomiting. On average though, a newborn baby can be changed one to two times a day, including their nightwear. 
Six to Nine Months Old
From six months old, your baby will be starting to sit up and even crawl. Additionally, at six months your baby may even be feeding on solids. By nine months old, your little one is pretty active as they creep and crawl across the floor! With all this activity, you could have leaky diaper problems and dirty clothes from being on the floor. At this stage, parents can be changing their baby's clothes two to three times a day. 
Nine to Twelve Months Old
At nine to twelve months old, your baby is an active infant. They're also more comfortable in separate clothing pieces. You may find yourself changing their tops more often than their bottoms or the other way round! 
In this stage, babies generally need one to two changes every day, going up to three changes a day if they're outdoors often. 
Types of Clothes Babies Wear
A baby's wardrobe should include the following items:
Rompers/babygrows/onesies: For newborns and babies up to six to nine months old. 
Vests: These are great on their own for summer days.
Cardigans: Babies will need an extra layer on cooler days. 
Sleepsuits: These sleepers are ideal for the first six to nine months.
Pajamas: Older babies may prefer to switch over to pajamas. 
Other: Mittens, jackets, hats, and socks plus some outfits for special occasions. Bibs are a must-have for messy babies. 
By the way, when deciding if newborns should wear hats, take into consideration what the medical experts have to say about this topic.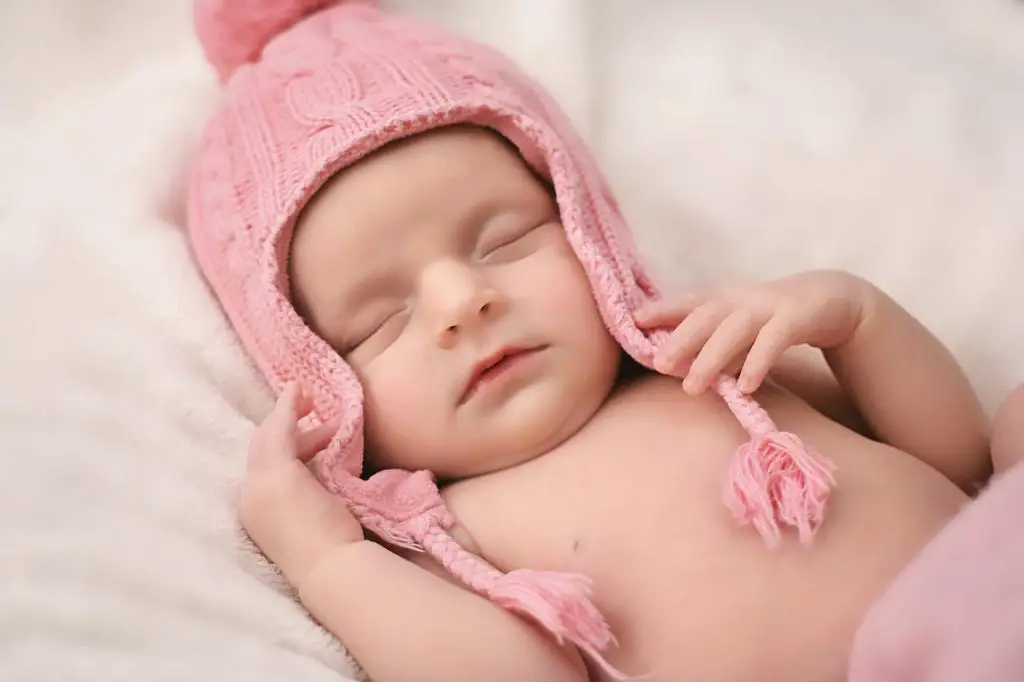 How Often to Change Baby Clothes During Daytime
If you're at home all day with your baby, you can dress them in a one-piece for the day. Some parents opt for only a vest and diapers when the baby is at home and it's not cold. Dress your baby into a clean outfit first thing every morning. 
How Often Should I Change My Baby's Romper?
If you're dressing your baby in rompers, you may need to change it two to three times a day if they have diaper problems or are messy feeders. For some babies, five changes a day becomes necessary if they suffer from serious reflux. Otherwise, one romper a day works well for most parents. If your baby is a heavy drooler, you may be changing rompers two to three times a day especially if it's a cold day. 
Here's a great video on how to change a baby's outfit (romper) in under 1 min.
How Often Should I Change My Baby's Vest?
Your baby's vest may only need to be changed two to three times a day if there's been a spit-up or your baby drools a lot. However, this can be avoided by using bibs or burp cloths. A baby's vest may also need to be changed if you're feeding your older baby solids or they're crawling around on dirty floors. 
How Often to Change Baby Clothes During Nighttime
The main challenge with nighttime is how to avoid diaper blowouts or leakage. If this happens, you'll be changing your baby's sleepwear more than once. Always change your baby into sleepwear just before they go to bed to avoid them from getting too dirty. 
How Often Should I Change My Baby's Sleepsuit?
A one-piece sleepsuit is ideal for comfort and safety for most babies at nighttime. If there are no diaper issues during the night, you can use the same sleepwear for the second night too, saving on laundry. However, if your baby is a heavy sweater at nighttime, you'll need to dress them in a fresh sleepsuit every night. 
How Often Do You Change My Baby's Pajamas?
You may be changing your baby's pajama bottoms more than once at nighttime if the diaper leaks or there's a blowout. However, as with a sleepsuit, you can dress your baby just before they go to bed and use the same pajamas the following night. If there are no mishaps during the night, you can change your older baby's pajamas every third or fourth night for a fresh pair. 
Signs You Need to Change Clothes
Messy Times Due to Diaper (Blowouts)
Diaper leakages and blowouts often result in clothes getting soiled and even blankets or crib sheets if the baby was sleeping. Diaper leakage is also a common problem when your baby starts crawling and walking. If your baby is prone to blowouts or is battling with an upset tummy, you may be changing clothes between two to five times a day. 
Baby Outgrows Clothes and Need to go Higher in Size
With newborns growing rapidly, it's a good idea to keep to a minimum number of rompers in their first few months as you'll be changing up to higher sizes as your baby grows. If you do laundry every second day, you can safely rely on six to ten rompers and the same number of vests. Six sleepsuits are adequate for smaller babies with two to three pairs of pajamas for babies from nine months old. 
Messy Times After a Spit-Up
Babies up to six months and even older may experience spit-ups often after feeding and you may end up changing their clothes up to three or five times a day. The number of changes depends on the severity of the problem and how often the spit-up ends up on the baby's clothes.
Baby Clothes Gets Dirty When Playing Outside
When your baby is old enough to start playing outside, you could be changing their clothes one to two times a day. The type of dirt will determine if it's necessary to change your baby's clothes when they come indoors. And, if you're putting your baby down for an afternoon nap, you'll want to change them into a clean pair of clothes. 
Baby Drooling Due to Tooth Growing
Some babies turn into heavy droolers when they start teething. This often results in a soggy mess on the front of the clothes. If this is happening to your baby, you may be changing their clothes two to three times a day during teething time. 
Tips on How to Minimize the Need to Change Clothes
Wear Bibs
One of the best ways to avoid having to change your baby's clothing often throughout the day is to use bibs. These baby items work well when your baby is drooling during the teething time or battling with spit-ups. Instead of having to change soiled clothes all the time, you can simply put a clean bib on. Here's how many bibs you'll probably need.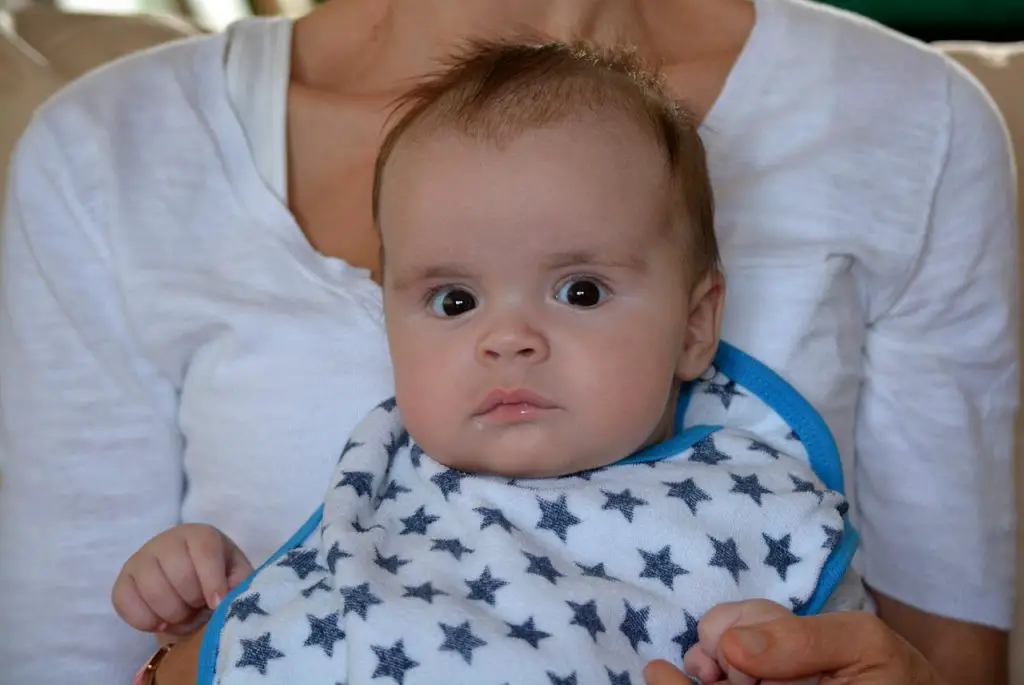 Burp Cloths
Another great solution for preventing clothes from getting soiled after feeding time is to use burp cloths. If you know your baby is going to spit up or even vomit after a feed, keep some burp cloths on hand. This way, you can wipe up any mess before it goes onto the clothes. 
Using the Right Diapers
Look for diapers that are designed to prevent leakages and blowouts. You also need to make sure you get the right size diapers for your baby to minimize these problems. Changing diapers before they get too soggy also saves on having to change clothes more than once. 
Wash Cloths
When deciding how many baby towels you need, more than less is a good idea! These items come in handy for cleaning up your baby during feeding times, limiting the amount of mess landing on your baby's clothes. 
Onesies Instead of Socks
Socks are useful for a number of reasons and parents are often wondering how many baby socks are necessary.  But, I was able to minimize the use of socks with our baby daughter in the first six months by sticking to onesies. This minimized the need for socks and to change them constantly.  
Conclusion
How often your baby needs to change depends on how old they are, how fast they're growing, and if they're battling with feeding problems. Active babies and diaper issues can also result in more than one clothes change a day. But, use my tips to minimize how often you should change your baby's clothes and spend less time stressing about laundry days!
Now that you're aware of this aspect of dressing your child, you might want to dig deeper into size differences, e.g. how 2T compares to 3T or 4 vs 4T? Or how about learning about the correct setting for tumble-drying your baby clothes? And should you actually tumble dry or air dry instead?