Technology has certainly made raising a baby in the 21 st century much easier. But you're confused: should I go for a high-tech Wifi or a low-tech Non-Wifi baby monitor? Exactly. This is the question I'll try to answer for you.
Decisions, Decisions: Wifi vs Non Wifi Baby Monitor
Decision making is literally the basis of parenthood. You have to decide whether to pick a wifi or non-wifi baby monitor. Which is better? This will depend on your specific circumstances. Your selection process will go much quicker if you have all the facts. And that's what this comparison guide is for: to give you the necessary information.
The Differences Between Wifi vs Non Wifi Baby Monitors
Baby monitors have evolved drastically over the years. Granted, these nifty gadgets serve more or less the same purpose: they allow you to keep tabs on your baby from a distance thereby giving parents that much-needed peace of mind. But wifi, such as a Nanit, Owlet or Miku and non-wifi monitors, e.g. Infant Optics, VAVA or eufy, have a few differences which I'll highlight below.
Technology Used: Wifi baby monitors use wifi to transmit signals while non-wifi monitors don't need to be connected to the internet. Operation is limited to a specific range.
Connection to Smartphones: Non-wifi baby monitors can't be connected to smartphones, be it Android or iOS devices. This makes it impossible to view your baby footage on your smartphone using a non-wifi baby monitor. A wifi baby monitor is able to stream images of your baby to your smartphone.
Function: Non-wifi monitors are limited in function. They only monitor your child, that's all. Wifi baby monitors do way more. For instance, the Cubo Ai (see an installed one below) also monitors the temperature and humidity in your baby's room.
The Pros and Cons of Wifi Baby Monitors
Pros
Allow you to view your baby footage from anywhere as long as you have strong internet connection
Less likely to experience signal interference
You don't need to move around with a receiver from one room to the next making it a convenient option. Simply use your smartphone
Some wifi baby monitors like the Nanit Plus allow for multi-streaming so that other people can check in on your little one
Cons
Easy to hack into
Have a long time delay (can be even around 10 seconds)
Difficult to set up and use
You can't check on your baby if your internet connection goes down (in the case of a power cut)
Rather expensive
The Pros and Cons of Non Wifi Baby Monitors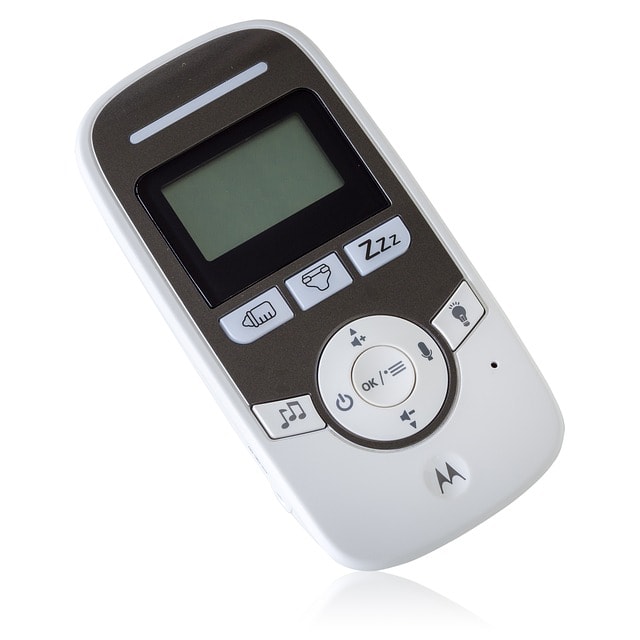 Pros
Difficult to hack into unless you're within the physical location
Less likely to experience time delays
Easy to set up and use
Affordable
Cons
Can only check in on your baby when you're within the transmission range
More likely to experience signal interference
You'll need a second receiver since you can't connect a non-wifi monitor to a smartphone
What to Consider When Deciding Between the Two
When deciding between the two options, be sure to consider the following factors:
Internet connection: Only pick a wifi baby monitor if you have access to the internet.
Operating frequency: Where possible, pick a model with a higher frequency to enjoy better signal quality (more bandwidth is available).
Level of tech-savviness: If you're not at all tech-savvy, rather opt for non-wifi baby monitors which are easier to set up and operate
Medical issues: If your little one has underlying medical issues, it's advisable to opt for a wifi monitor which has features designed to closely monitor your baby's breathing pattern. This will however depend on the model you pick.
FAQ
Do wifi and non-wifi baby monitors emit radiation?
Yes, they both emit infrared radiation. The levels emitted depend on the frequency the monitors are operating on.
When can I stop using a baby monitor?
This is up to you. Some parents stop using the unit when their little ones start sleeping through the night. But if your baby has breathing problems, feel free to use it for as long as you want.
Conclusion
Whether you pick a wifi or non-wifi baby monitor is entirely a matter of preference. Just be sure to pick a model that comes with the features you need for your circumstances.
And of course, pick a model that you can afford. Technology is there to make parenting easier. Embrace it.