If you're panicking because you haven't heard of Cradlewise before and worry you're losing out on a great baby product, relax! This relatively new smart crib, founded in 2019, is still making leeway into the baby market. But, it's worth exploring the differences between Cradlewise vs SNOO bassinets if you like using baby-based smart technology.
Read my comparison review before rushing out to put your name on the Cradlewise waiting list. That's right, you'll have to wait until May 2022 before getting this smart bassinet. In the meantime, let's talk about both SNOO and Cradlewise smart bassinets so you can decide if it's worth the wait. 
Comparison Table
| | | |
| --- | --- | --- |
| Features  | Cradlewise | SNOO |
| Response Time | YES – on waking | YES – when baby fusses |
| Built-In Baby Monitor | YES  | NO |
| Operation Sounds | Noiseless | Quiet |
| Auto Stop | YES | YES |
| Music and Sounds | YES  | YES  |
| Motion | YES  | YES  |
| Mobile App | YES | YES |
| Mattress Material | Organic and non-toxic | Covered with 100% organic cotton sheet (included) |
| Age and Weight Limit | 0 – 24 months/33 lbs. | 0 – 6 months / 24 lbs.  |
Differences and Similarities Between SNOO vs Cradlewise
I've done a comparison between the SNOO and HALO smart bassinets and SNOO or MamaRoo 4 Babies bassinets by comparing their various features. I'm going to do the same in this review by comparing the differences and similarities of the SNOO and Cradlewise bassinets. 
Response Time
Cradlewise: The bassinet soothes your baby in Quiet-Phase before they start to cry. This response time often makes it easier for your baby to go back to sleep before getting upset.
SNOO: The cot responds automatically when your baby starts to fuss, soothing them back to sleep before the crying sets in.
Built-In Baby Monitor
Cradlewise: The built-in baby monitor is a stand-out feature most other smart bassinets on the market don't include. Both audio and video technology allow you to monitor your baby while sleeping.
SNOO: This feature isn't available which means getting your own baby monitor for a SNOO if you want to see what's happening to your baby while they sleep.
Operation Sounds
Cradlewise: The patented parent-like bouncing mechanism is noiseless, keeping both baby and parents asleep whenever it's activated.
SNOO: Using only premium materials for the motor, the crib rocking motions are quiet enough to not disturb your baby when rocking. 
Auto Stop
Cradlewise: When your baby falls asleep, the smart bassinet will stop bouncing automatically. You can also use a simple hand gesture by holding the crib to stop the motion when your baby settles. 
SNOO: When your baby settles down, the bassinet will automatically time out and stop swaying. 
Music and Sounds
Cradlewise: You can pick from six lullabies, 13 classical tunes, or six white noises to soothe your baby to sleep. 
SNOO: This bassinet relies on both womb-like motion and sounds to soothe your baby to sleep. There are no options to select either lullabies or other songs. 
Motion
Cradlewise: A natural, gentle, parent-like bouncing motion is activated when the baby needs soothing. This motion is available in both bassinet and crib mode. 
SNOO: The bassinet motion is similar to a gentle rocking movement similar to what your baby experienced inside mom's womb. The swaying motion soothes your baby to sleep, stopping when they settle. 
Mobile App
Cradlewise: You can download a mobile app for both iPhones and Android. This allows you to monitor your baby remotely while they're sleeping. The app also allows you to track your baby's sleeping patterns. Notifications and tips are also sent to your mobile.
SNOO: Also available on both iPhone and Android, the mobile app allows you to customize settings, receive daily sleeping pattern reports, and useful tips. 
Mattress Material
Cradlewise: The manufacturers of this bassinet have made a point of only using organic and non-toxic materials in their mattress. Their mattresses are made from coconut coir and natural latex materials.
SNOO: A fitted, organic 100% cotton sheet is included with the bassinet as well as a water-resistant mattress cover. 
Age and Weight Limit
Cradlewise: You can use the bassinet until your baby is ready for crib mode. This means you get to use the crib for up to two years. 
SNOO: This smart bassinet is only recommended for babies from birth to six  months old. This means you'll have to start looking for a new crib once your little one starts to sit up or crawl.
How Does Cradlewise Work?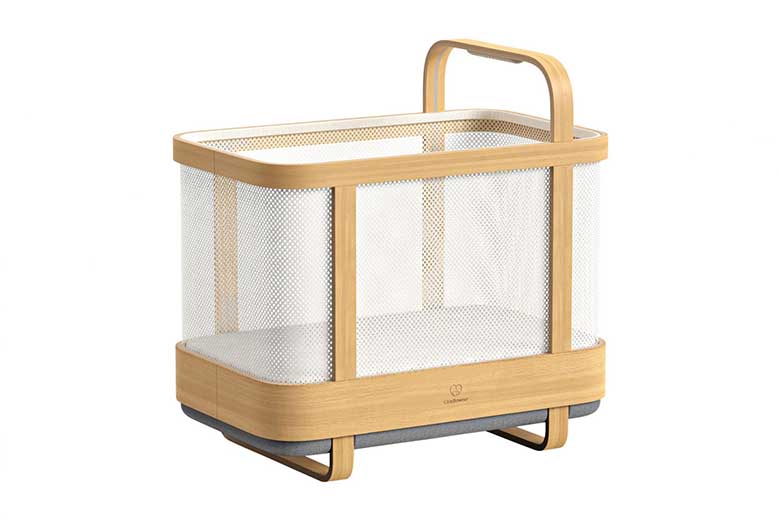 The Cradlewise smart bassinet relies on its built-in baby monitor to detect when your baby starts to wake up. It operates on the theory that your baby goes through two wake-up stages before reaching the cry stage – Quiet and Active. 
By using the patented Quiet Sight technology, the bassinet detects when your baby is in the Quiet wake-up phase. And, then starts to gently bounce to soothe your baby back to sleep. 
The bouncing movements are smooth, starting gently without any sudden starts which would startle your little one. When your baby is soothed back to sleep, the bouncing motion slowly stops. The crib also automatically plays either sounds or selected instrumental music. 
What I Love About Cradlewise Bassinet
Having a bassinet and built-in baby monitor, all in one, is a very attractive feature, giving parents peace of mind they can see what their babies are up to when sleeping. I also love the option of selecting white sound or music. 
Being able to switch from bassinet to crib mode, means you get to keep this baby bed for up to two years. This is an appealing deal for parents who don't want to be looking for another bed when their baby reaches six months old. And, being the eco-conscious dad that I am, I love the fact that the mattress is 100% organic with no nasty toxins gassing off while the baby sleeps. 
Watch what these parents have to say about using a Cradlewise smart bassinet.
How Does SNOO work?
The SNOO bassinet responds as soon as your baby starts to fuss, using an advanced algorithm. The womb-like motion and sound are activated, calming your baby back to sleep in under one minute. 
The bassinet comes with SNOO swaddle sacks made with 100% organic cotton. By swaddling your baby, they'll stay on their backs and remain cool which also aids good sleeping patterns. 
What I Love About SNOO Bassinet
The SNOO bassinet works well for newborns up to six months old, helping them get into a good sleep cycle every night. Five levels of motion and sound allow you to set the response to hear even the faintest niggles your newborn makes. I love the safety features of this bassinet which includes the Happiest Baby SNOO Sleep Sack which stops your baby from rolling. 
I also love the fact that you can select your motion and sound modes from your mobile and check out your baby's sleeping patterns. You can also use it when you're ready to wean your newborn from the bassinet.  
Dr. Harvey Karp explains why he developed the SNOO smart sleeper in this video.
Verdict
When looking for a great SNOO alternative, the Cradlewise bassinet is an option to consider if your baby is only arriving after May 2022. While it shares similar features to the SNOO, it does have some advantages such as the built-in baby monitor worth looking at. Plus, it saves you stressing about finding a crib until your baby is two years old!
On the other hand, the SNOO has been around for a while now, tried and tested so you don't have to experiment with Cradlewise as a newcomer.
When you're ready to start buying baby stuff, will you go for the SNOO or the "new kid on the block" called Cradlewise?
Last update on 2023-08-31 / Affiliate links / Images from Amazon Product Advertising API