Are you one of those parents who like the finer things in life? I'm guessing your baby should expect nothing less! Have you been shopping around for the most expensive stroller on the market? Consider the UPPAbaby Vista Baby Stroller. It's safe and comfortable for your baby, not to mention stylish.
They are called luxury strollers for a reason. They embody everything stylish and exquisite from the stunning embellishments to the functional appeal. Whether you want your baby's ride to be the talk of the town or the envy of your friends, I'll discuss why it's allowed to buy an expensive stroller for your baby. And help you pick the right one.
My Top Picks
How to Go About Picking the Best Luxury Baby Stroller
Every parent wants only the best for their child. If you could give your little one the moon, you honestly would. But since that's impossible, your kid will have to settle for the best baby products on the planet! I'm talking about the best bassinet, the best baby monitor, and of course the best luxury stroller. Still sounds good, right?
But simply because money isn't an issue and you don't really go around checking price tags, it doesn't mean you shouldn't know what you're paying for. That's why I'm here to give you a rundown of the most exquisite strollers money can buy, explain what justifies the hefty price tag, and walk you through the decision-making process.
I want you to make the best possible purchase.
Interesting Mind-Blowing Facts About Expensive Baby Strollers Around The World
You'll be blown away by the number of luxury strollers on the market. Manufacturers go all out to custom design some of the most stunning strollers made of only the finest materials. And they have a high price tag to prove it.
I'll let you in on a few interesting facts about the most expensive strollers in the world.
Versace has some of the most expensive luxe strollers in the world. The brand's White Baby Stroller retails almost a whopping $4000!
Silver Cross is considered to be the Rolls Royce of strollers. Expect to part with almost $4700 to own the brand's Aston Martin stroller.
The famous Kim Kardashian didn't hold back when she spent an estimated $1200 dollars on her first baby's stroller. She bought her daughter North, the Orbit G2 Travel System.
In case you've been wondering what kind of stroller is fit for a royal baby, Silver Cross is the brand of choice. It's part of the royal pram tradition that has been used by the Queen as a baby right through to Kate and William's children. Speaking of Kate, she bought her son George, a Silver Cross stroller which cost approximately $2000. Have a look at this video if you want to see how the prams for the royals are made.
Feeling inspired?
Key Features of an Expensive Baby Stroller
So, what exactly justifies the huge price tag on these stylish rides? Well based on my research, it's a combination of the following factors:
High-Quality Materials: Naturally high-end strollers aren't made of flimsy and cheap materials. Only superior materials are sourced and used to make these luxury strollers stand out. I'm talking about leather upholstery, quilted fabric, sheepskin lining, and alligator skin. The materials used will of course depend on the brand you pick.
Design: Most expensive strollers have impeccable designs that enhance the unit's functionality. Some are versatile enough to be used as a regular or jogging stroller. Others can be expanded from single to double strollers in case you have twins.
Aesthetics: One of the aspects of making an expensive stroller stand out is the aesthetic appeal. By simply looking at the stroller it's easy to tell that a lot of money was spent. Some are characterized by all things shiny from gold detail to chrome-plated handles. Because what's the point of buying an expensive stroller if it doesn't look like that?
Limited Edition: For some parents, the whole point of buying an expensive stroller is for exclusivity and to set their baby apart from the rest. That's why some manufacturers only design a handful of designer strollers for a few elite.
Do I Need A Luxury Baby Stroller?
In case you're wondering if you really need a luxury baby stroller, I'd say if you can afford it then why not? Raking in a six-figure pay-check doesn't happen by chance. It takes a lot of time, effort, and probably blood, sweat, and tears! What's the point of it all if your loved ones can't enjoy the fruits of your labor?
By splurging on a luxury stroller for your baby you'll definitely be making a statement AND it'll look great on Instagram! But over and above you can expect:
A life-long investment because most expensive strollers are designed to outlast generations.
It follows if you buy an expensive stroller you may not have to purchase another one in the future, saving you money in the long run.
Manufacturers of expensive strollers don't skimp on quality and comfort. Your child will be riding in the utmost comfort.
What to Look For When Buying an Expensive Baby Stroller
While we're all for mind-blowing designs and beautiful aesthetics, at the end of the day you want a practical stroller, no matter how expensive it is. To get value for your money when picking a luxury stroller, pay attention to the following factors:
Size & Weight: The heavier and bulkier the stroller is, the more difficult it's to move around with. Decide if you want a bulky stroller or a streamlined stroller like the UPPAbaby Vista Baby Stroller which is lightweight and compact.
Weight Range: Consider the stroller's weight capacity. Can you use it all the way until your baby's toddlerhood years? Only the Silver Cross Balmoral Pram and Surf Aston Martin are for infants. The others can be used when your kid is a toddler.
Safety: No matter how expensive a stroller is, it's pretty much worthless if it doesn't have effective safety features. Safety harnesses, safety belts, and brakes are worth considering.
Extra Padding: If you're going to spend an arm and a leg for a stroller, your baby should expect nothing short of a blissful ride. Pick a stroller with extra cushioning on the seats.
Reclining ability: Does the stroller recline to suit every stage of your baby's life? Newborns should sleep flat on their backs in a stroller. As they grow older, you can adjust the seat upwards. Pick a stroller like the UPPAbaby Vista Baby Stroller, Bugaboo All-Terrain Stroller, and Baby Jogger Double Stroller which allow for that.
Wheels: Are the wheels large enough for effective shock absorption? Your baby shouldn't even feel the slightest bump when rolling in her stroller. Also, consider if the wheels lock for easier control and if they can navigate different terrains like the Baby Jogger Double Stroller.
Extras: Extra features are worth paying for. Does the stroller have a cover to block out the sun's rays? Does it have ample storage space where you can keep your baby's items and cup holders for your convenience? Does it have footrests?
I'll kick off with this stylish stroller which I've voted the best overall. Your baby can expect to ride in style and unmatched comfort if you pick this stroller. It can navigate different terrains thanks to the impressive wheel suspension. The black color gives the unit a timeless and classic appeal.
It can even come with a bassinet – what's more, there are some more affordable stands for the UPPAbaby bassinet so you don't have to go broke after a purchase. Or how about considering a used UPPAbaby stroller?
Who It's For
It's ideal for parents who want a stroller that can be used by their little one from infancy to toddlerhood.
Why You Should Consider It
This stroller will serve you from the time your baby is born till he's a toddler. When still young, you can place him in the bassinet provided. As your child grows older, you can make use of the multi-reclining seat.
Your child's comfort concerns are taken care of if you pick this unit. The high back and deep footrest ensure your child rides comfortably. You'll appreciate the adjustable harness which you can loosen and tighten to make your child comfortable. You can decide if you want your baby to face you or forward while riding. And it also comes with a canopy to provide shade from the sun.
Product Information
Dimensions: 17.3 x 25.7 x 33.3"
Weight: 27lb
Weight range: 10-50lb
Pros
Easy to control
Rides smooth
Easy to assemble
Cons
View on Amazon
Next, I have this versatile baby stroller that can be expanded into a double stroller. It'll come in pretty handy if you have twins. Still, on versatility, the seat is designed to front-face, face you, or sibling- face. All of which are impressive features considering the price tag.
Who It's For
This stroller is great for parents with more than one child.
Why You Should Consider It
You'll like how the manufacturer included all the features making this stroller safe and comfortable for your baby. These features include the 5-point safety harness and parking brake. The stroller is easy to control thanks to the locking front swivel wheels.
For your baby's comfort, the unit has a multi-position reclining seat to match the different stages of your child's development and rotating calf support. The handlebar is adjustable so both you and mommy can adjust it to suit your preferred height. And it comes with a large canopy to protect your child from the harsh sun's rays.
Product Information
Dimensions: 21.65 x 11.22 x 33.32"
Weight:43.5lb
Weight range: 4-45 lbs
Pros
Designed to navigate all terrains
Can be used well into your baby's toddlerhood years
Easy to maneuver
Cons
Brakes might stop working after some time
Heavy
Seats somewhat small
View on Amazon
If you're looking for a lightweight but sturdy stroller designed to last longer, look no further than this unit. It's made of superior aluminum which makes it incredibly durable. Aside from the lightweight design, it's compact which allows for easy handling and has a small footprint for easy storage.
Who It's For
This stroller is suitable for parents who like taking hiking trips and walks with their baby.
Why You Should Consider It
If you plan on hiking with your baby, pick this all-terrain stroller that can navigate all terrains with ease thanks to the large wheels. Plus it's easy to maneuver. Your child can expect a comfortable ride away from the sun's hot glare thanks to the large extendable canopy. You'll like the see-through window that allows you to keep an eye on your baby as you travel.
The stroller is compatible with a number of car seat brands in case you want to turn it into a complete travel system. This stroller also comes with a separate bassinet for your handling convenience when traveling.
Product Information
Dimensions: 32.56 x 22.2 x 11.3"
Weight: 31.4 lbs
Weight range: 50 lbs
Pros
Sturdy construction
Easy to navigate tight spaces
Lightweight
Cons
Won't suit most peoples' budget
View on Amazon
If you're not sparing any dollars for your little one's stroller, consider this stunning piece that'll have your child riding in style. By dipping deep down into your pockets you'll enjoy this beautiful and high-quality product designed to perfection. The paint finish is enough to turn heads. Moving on to function, the stroller has an air-ride suspension giving your child a smooth ride.
Who It's For
This pram is designed for newborns.
Why You Should Consider It
The stroller features a luxurious fabric and an equally stunning interior. Its handles are made of tan leather and the seat liner is made of the softest sheepskin. The manufacturer was kind enough to throw in a cashmere baby blanket. If that isn't the epitome of luxury, I don't know what is.
Product Information
Dimensions: 38.5 x 22.8 x 39.3"
Weight: 16.5 lbs
Weight range: 8.3 lbs
Pros
Made of superior materials
Aesthetically pleasing
Guarantees a bump-free ride
Cons
Premium-priced if you're on a tight budget
Not for toddlers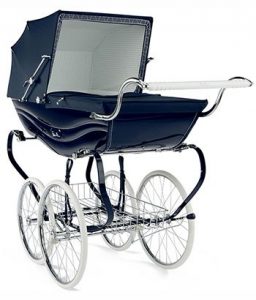 And now, to save the best for last or should I say the most expensive stroller for last? If you want your child to be part of the royal league consider this high-performance luxury pram. The iconic design will surely make the stroller stand out—in a good way. It's hand-crafted for exquisite detail and designed using only the best in British technology. The end result is a stylish but high-quality stroller.
Who It's For
This pram is perfect for newborns and older babies but not for toddlers.
Why You Should Consider It
The stroller features a unique design starting with the polished chrome chassis and stitched fabric. It has a cotton liner and deep padded mattress to ensure your baby is transported in the utmost comfort.
Your little one will enjoy a smooth and bump-free ride thanks to classic Balmoral suspension. Your baby's comfort concerns are taken care of since it comes with a stylish leather white harness. Throw in the solid wood handle and you've got a stellar product on your hands.
Product Information
Dimensions: 52.36 x 23.22x 49.21"
Weight:  66 lbs
Weight range: Not specified
Pros
Easy to push
Stylish
Made of high-quality material
Cons
Very expensive
Doesn't come with a canopy (you have to make an additional purchase)
FAQ
Is it worth buying an expensive baby stroller?
Yes, you get what you pay for and expensive strollers don't compromise on quality and durability.
What makes a baby stroller expensive?
It's a combination of factors such as materials used in the construction, brand in question, and overall design.
A Final Word on Expensive Baby Strollers
Are you now convinced whether buying the most expensive stroller on the market is worth it? Like I said, if you can afford to, I don't see why not. Besides having it as a status symbol or wanting only the best for your child, you'll still reap the rewards. Why? Manufacturers of high-end strollers go all on out on designing pieces that don't disappoint with regards to function and performance.
Best of all, you don't have to worry about making repeat purchases a few months down the line since you're guaranteed durability. Pick the UPPAbaby Vista Baby Stroller and enjoy all these benefits and more. It's easy to handle and easier to push. Plus it offers a safe and comfortable ride for your little one.
Most parents buying this stroller will know it's money well spent! And always remember; the price of a product more often than not reflects its quality. If you're still not convinced, you might want to check out my other article UPPAbaby VISTA V2 vs CRUZ V2 vs MINU.
Last update on 2022-09-15 / Affiliate links / Images from Amazon Product Advertising API