It's important to know when to lower crib mattress beds. This is because a crib must be a comfortable and safe place for your baby to sleep. Infants are easier to manage when bedtime arrives because they can't stand up yet. Therefore there's no fear that your baby will fall out of the crib.
On the other hand, when your baby starts getting bigger and can crawl and stand there's a risk your baby can climb out of the crib and possibly get injured. That's why you must have a crib that's suitable for infants and toddlers. These cribs have adjustable heights so you can lower the mattress.
I've done the crib lowering process several times and things are still fresh since my daughter is about two years old.
Let me walk you through this process of when and how to lower your crib by age and height below.
Why Does Crib Height Matter?
Newborn babies and infants younger than five months are safe when sleeping in a crib that's on the highest level. This is because babies this age can't sit or stand up so it's not a safety hazard to them. As soon as your baby can stand up and hold onto the crib it's time to lower it.
Crib height matters because it can be a safety hazard. 83.2% of baby injuries are caused when they fall out of their cribs. So as your baby gets to that stage where they become curious and want to explore you should consider adjusting the mattress height.
What are the Different Setting Levels?
Not all cribs are the same. There are regular cribs, mini cribs, or cribs with a changing table. Some have higher and lower setting levels compared to other types of cribs. There are different setting levels where you can adjust the height of the crib by increments. This is so you don't lower the crib too much. You see the holes in the crib I use below which indicates the setting levels?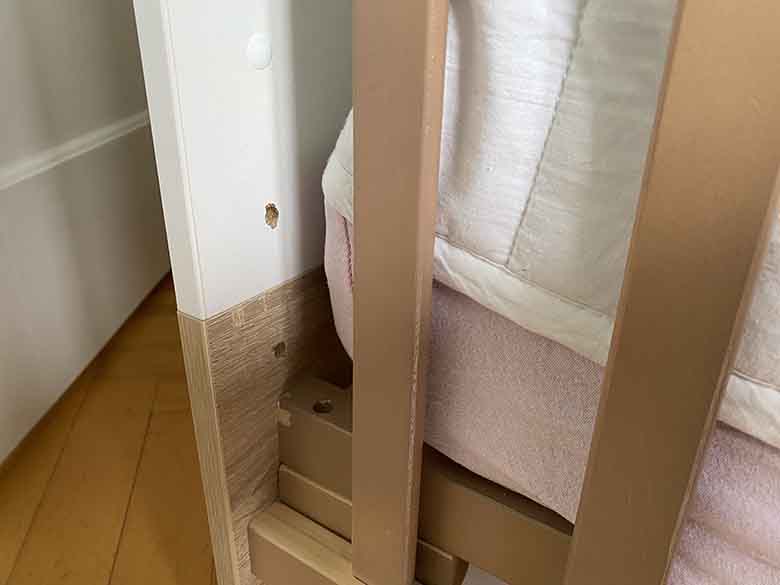 All cribs should be adjustable so you can change the height of it easily. The higher level is suitable for infants between 0 and 4 months old. A higher crib height is ideal for parents who don't want to bend too low to pick up their baby. Then there is a middle height and the lowest setting of your crib.
What Level Should a Crib Mattress Be? When to Lower it?
You don't have to adjust your baby's crib to the lowest setting right away. If babies can sit up they can also pull themselves up on crib railings. If the mattress is high enough your baby is at risk of flipping over the edge of the crib's railings.
A general rule of thumb is you want the height of the railing to be 26 inches from the top of the mattress according to the 'when to lower crib mattress by AAP' guidelines. You can periodically lower the mattress as your baby gets taller.
Lowering your mattress when your baby is at the correct age will prevent injuries from falls. You should remove crib bumpers and wedges too because your baby can use these fixtures as leverage to climb out of the crib. Here's a quick illustration showing you when to lower the crib mattress.

When to Get a Toddler Bed?
If your baby is over eight months old and has reached a height of 35 inches it's time to invest in a proper bed. At that point, you might want to think about selling your used baby crib.
When to Lower Crib All the Way Down?
Some cribs allow you to drop the mattress down to the floor. This is when your baby is old enough to climb. If you want to create a safer sleeping arrangement for your growing baby you can adjust the mattress until it's lowered to the floor.
This works as a temporary solution until you can get a bigger bed for your toddler.
When to Lower Crib to Middle Setting?
Is your baby able to roll over, sit up or crawl on his or her hands and knees? Then it's time to adjust the crib to the middle setting which is a notch down from the highest level. Babies between the ages of five to eight months can sit up on their own. Therefore, if your baby is older than five months you should lower the crib to the middle setting.
When to Lower Crib to Highest Setting?
It's safe to lower cribs to the highest setting when your baby is a newborn and unable to crawl or stand. This setting also allows you to place your little one down easily especially if you're a tall parent. The crib should only be in the highest setting if your baby is below the age of five months.
How to Lower the Crib Mattress
Now that you know the importance of lowering a crib mattress how do you go about doing it? First, choose the height you want to adjust the mattress to. Before you adjust the height you want to remove the mattress and bedding from the crib. This will prevent the mattress and linen from getting stuck and ripping when adjusting the crib's height. You might also want to get a measuring tape and screwdriver or Allen key.
Some cribs will have screws at the foot of the bed that you'll have to remove to adjust the height of the crib. Once you've removed these screws, lower the height of the crib to the setting you want.
When you're done adjusting the foot of the bed you can do the same for the head. Reinsert the screws and test that the crib is stable. Place your mattress and bedding back in the crib. Take a look at this YouTube video for general guidelines on how to adjust crib mattress height.
Standard Requirements for Crib Height
As mentioned before the requirement for the side rails is 26 inches from the top of the mattress. However, mattresses in the US can be between five to six inches thick. Therefore, the distance between the railings and the crib mattress should be between 20 and 21 inches.
A fall from higher heights can be fatal to a baby. So you must stick to these rules. Always lower your mattress to the middle setting when your baby is five months old. Lower the mattress to the lowest setting when your baby is older than eight months or can pull themselves up using the railings.
What is the Safest Mattress for a Baby?
The safest mattress for a baby is one that fits snuggly into the crib with no gaps. That's why the Sealy Mattress Cotton Bliss is a popular product because it's the correct size for standard cribs. The cover is made from organic cotton so that it doesn't irritate your baby's skin.
This mattress has firmer layers so that it doesn't sag in the middle so your infant can sleep with the correct back support. It's a breathable mattress that keeps your baby's body temperature consistent throughout the night.
If you're looking for some of the other best affordable crib mattresses, then you might appreciate the Moonlight Slumber dual-sided crib mattress. It has a plush foam construction that's also firm to prevent sagging. It's ideal for infants and toddlers.
The Moonlight Slumber mattress is made with medical-grade fabric that's safe for your baby to sleep on. You'll also appreciate that it's bedbug and dust mite resistant.
There are also mini crib mattresses on the market which is ideal for smaller cribs.
At What Age Does a Baby Outgrow a Crib?
Babies that are between 18 months and 3 years old are probably too tall for cribs. You want to start investing in a bed for your toddler when he or she reaches the age of 3 or when your child is tall enough to climb over the crib's railing.
What are the Safest Baby Cribs?
When choosing a baby crib you want a product that's not only comfortable but safe for your baby to sleep in too. One of the safest baby cribs you can find is the Babyletto Hudson 3-in-1 convertible crib. The crib is made from natural pinewood and has been tested to ensure lower VOC.
This crib has 4 easy height adjustments to provide comfort and safety for your baby. There's also invisible hardware throughout the crib to ensure extra safety for your little one.
On the other hand, if you're looking for another type of crib that's safe for your baby then you may want to try the DaVinci Kalani 4-in-1 crib. This crib has been scientifically tested for over 10,000 chemical emissions. There are no toxins in this crib that can harm your baby.
What's more, the crib is made with 100% sustainable pinewood. The levels on the crib are easy to adjust as your baby grows and it can be converted to a toddler bed. This means you'll save money because you won't have to buy an extra bed when your baby gets bigger.
This brand is also my top pick in my head-to-head comparison between DaVinci versus Babyletto cribs.
Final Thoughts
Now that you know what the safety requirements are for lowering your baby's crib mattress you can ensure this is done as your baby gets bigger. It's important to choose a crib that allows easy height adjustments so that you don't need many tools for the job.
Make sure that when your baby reaches a height of 35 inches you have a toddler bed ready for them. Or purchase a crib that can be adjusted to a toddler bed. This way your toddler won't have to get used to a new mattress.
By the way, did you know that crib mattresses don't have an expiration date but there is a maximum recommended number of years for its usage? Or that you can resell them?